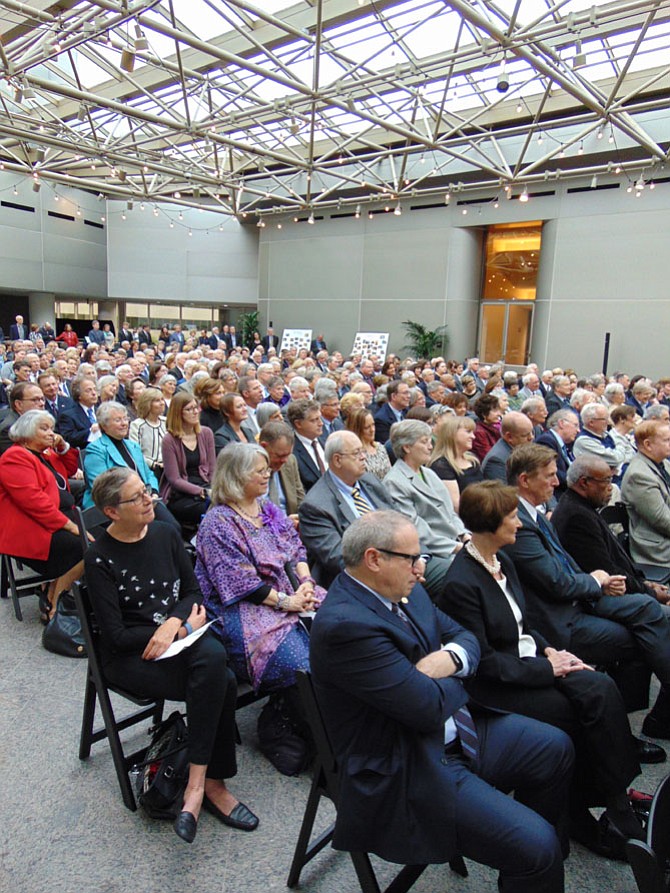 In a crowd of several hundred, Fairfax County's political elites turned out for the memorial service to honor former Del. James "Jim" Scott, on Saturday, May 6 at the INOVA Center for Personalized Health Conference Center Atrium in Fairfax. Scott died on April 13 at the age of 78 of complications from Alzheimer's Disease.
A Democrat, Scott served in the Virginia House of Delegates for 22 years and 11 terms, representing the 53rd District, which included the City of Falls Church and Merrifield. He also served on the Fairfax County Board of Supervisors representing the Providence District for 14 years from 1972 to 1986. And he also worked for INOVA Fairfax Hospital as a community affairs consultant.
He held positions on the Northern Virginia Planning District Commission, Metropolitan Washington Council of Governments, Northern Virginia Transportation Commission (former chairman), Virginia Association of Counties (former President), and the Washington Metropolitan Area Transit Authority.
Some of the politicos in the audience were those who worked alongside him and loved him, including: U.S. Rep. Don Beyer (D-8), U.S. Rep. Gerry Connolly (D-11), Chairman of the Board of Supervisors Sharon Bulova, former Board Chairman Kate Hanley, Virginia Del. Ken Plum (D-36) of Reston, and Del. Marcus Simon (D-53) of Falls Church.
"Jim Scott was one of a kind. There was absolutely no difference between the extraordinary public servant that he was and the friend he was to everyone else. He was among the most authentic people I've ever met," said Beyer.
Addressing the crowd, Connolly added, "He changed this community; he took us a long, long way. That's his legacy. He won't be forgotten. What he accomplished is a living memory and we're all better for it." Connolly said he will be giving a testimonial in the Congressional Record honoring the memory of Scott.
Master of Ceremonies Jerry Hopkins added: "With Jim's death, I lost my best friend ... Jim's commitments, values, demeanor and passing the microphone inspired those around him. And it inspired Democracy. This is the way Jim Scott did Democracy."
Hanley called Scott a visionary. "No one was more politically astute than Jim Scott," she said. "He ran on a record of fairness, honesty, and decency. He was a master at raising issues and getting community support."
Plum, who once worked as a teacher at Edison High School in Alexandria with Scott, called him a very friendly guy. "His leadership was changing the way we do business and how we do government," he said. "Jim believed in progressive ideas; believed in what was right; and believed he could make a difference."

Plum added, "He provided a voice for people who didn't have a voice. He made a difference."
Simon, who worked as legislative aide to Scott before taking over his seat, said: "He's still very much alive in my thoughts. Jim was my first real boss and you learn a lot from your first boss." He added, "I worked for Jim when there were facts and opinions and the facts did matter ... In a lot of ways, Jim was ahead of his time."
Nancy Scott, Jim's wife of 40 years, added, "Jim was an easy man to love. Our family thanks you for being here today. I know Jim would be pleased to be remembered today. All of you have helped remember Jim at his fullest. Jim loved to work and was skilled at it; he was a superb connector of people to people."
During the service, former School Board Representative Ernestine Heastie shared a poem by Robert Frost called "Stopping by Woods on a Snowy Evening." And the service ended with family members coming to the stage to sing "Simple Gifts," which was the same song sung at the Scott's wedding 40 years earlier.