Alexandria — Eby Jean Baptiste Aka is an Alexandrian and an African immigrant. He brims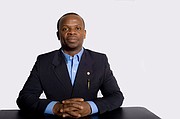 with faith and passion to serve the community he now calls home and to build bridges across the Atlantic. He says this "spirit of service" is the "spirit of America."
Aka came to the U.S. in 2000 as an educator from Côte d'Ivoire in West Africa. Having taught in Ivory Coast at a Christian school full of expats, missionaries and diplomats, he wanted to take his multicultural experience abroad. He has taught various grade levels in Minnesota, Virginia, and Washington, D.C. In 2002, he decided to stay. Now 46, he has called Alexandria home for 13 years. He and his wife, both immigrant citizens, have two young children.
Aka's commitment to youth stems from his own experience growing up in the hardship of a small Ivory Coast village, and in particular from his mother. "Mom told me early to live useful, to make sure…[to] touch…other people's lives" he said. He learned from her example. "She [would] be taking care of people's children. She [would] be sharing food. She [would] be involved in resolving conflict. … She was everywhere." When Aka was a teenager, his father left. Aka stayed in school to support his mother, who suffered from an eye sickness that ultimately blinded her. He has been taking care of her ever since, now by sending money.
Aka is a man of strong faith. "I have served a lot. I have been sharing the gospel [with] young people. I have … a strong bond with people. Not only mentoring students, but I have been mentoring young adults, even adults. So … my spirituality is very strong. I'm Christian and I love God. And … the love [of] God is a very big part … of my life," he said.
Rich Hurst, who used to be a pastor at McLean Bible Church in Vienna, where Aka both worked and worshiped, concurs. Aka "is a devout believer" and "a great lover of people," he said. "I have never met a person with as much heart to serve teenagers and young adults," he wrote in the foreword to Aka's 2010 book "The Walk to the Stage of Honor." Aka wrote the book as a guide to moral development for youth.
Aka hopes that his example and mentorship will help young people rise above their challenges. "I think if I can give a little bit to another young person … maybe some will rise beyond their circumstances … to be where I am today," he said.
To that end, he serves on the board of directors for the Campagna Center, a local nonprofit, which runs programs for youth and families. And in 2009 he founded Global Caravan for Education and Cultural Exchange, an Alexandria-based charity that, among other things, has incrementally outfitted an elementary school in Ivory Coast with books and computers. Also in connection with this work, Aka participated in an education roundtable in 2015 with then Secretary of Education Arne Duncan.
Joan Vistica, Global Caravan's senior operations coordinator, feels inspired by Aka's optimism and energy "about how things could be."
Aka has since left career teaching. He's been paying the bills by driving for Uber and selling his book. With his children growing up, he said it's time to pursue his "stock of [business] ideas."
Last year he launched Eburnie Partners Corporation, which aims at developing mixed use and mixed income real estate in Africa. Aka says "Africa is going to grow for a very long time," so he expects a very good return on investment.
But it's not only about the money. Aka wants some of the profit to fund charity work. And he envisions the business itself as a service. Unlike other commercial enterprises that just "take resources out," Aka says builders can "transform" communities in a lasting way.
"[We will] not only build our building and just make [a] profit and get out," said Cherif Memene, Eburnie Partners' director of finances and Aka's longtime personal friend. "We will look at the area. OK, what can we give back to that area? Do they have a school? If they don't have a school, the social par t… [is] that we build a school for them." Or perhaps a hospital or a clinic.
Construction would also provide jobs to low-skilled local workers, said Memene. And upscale properties would attract foreign owners, who would in turn buy from local businesses. With this boon to surrounding commerce, locals "can go home and put the kids through school, they can take the sick parents to the hospital, and they can put food on the table for their family," he said.
All in all, Aka believes his endeavors captures the American spirit.
"The political climate … [is such that] some people look down [on] immigrants — people like me — not even knowing what I am doing for this country." He experienced a confrontation with two people who "were not talking nicely. … I first said, 'What a privilege to be born here …' … I asked them, 'Can you … show me the list of what you do to serve America, besides your paycheck?' They didn't have a list. And I said, 'Well, being American is more than filling your tummy and going to sleep. I'm not from here, I wasn't born here. [But] I'm a proud citizen, and I can show you a list of what I've been every day doing.'
"This is a great country and I believe each one of us from somewhere else, who comes here, we should be not just people who live to take from this country, but a people who will live here also to build. … American is about more than our own selves. And I want to make sure I teach my children that. … [I am] proud to be a citizen of this nation that has accepted me. And I'm part of it, and I will make sure … I take every opportunity I get [to] do something that can be useful for this country and contribute its growth and its wellbeing. Because American wellbeing means so much good for the rest of the world too."