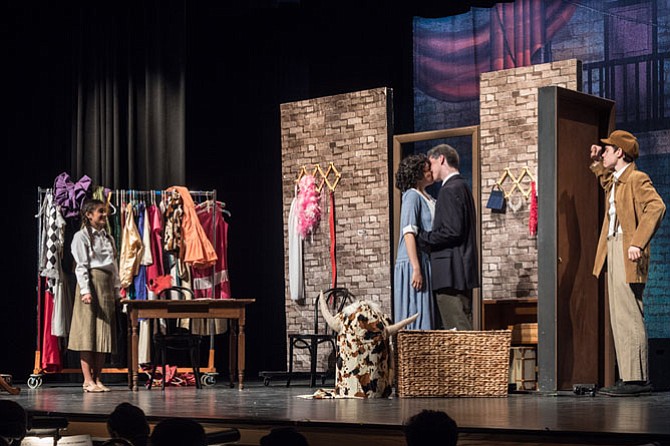 Everyone loves a good child star — the curly hair, the adorable dimple, the wide-eyed innocence. But behind every young performer, tucked away behind the curtain, stands a mother with an endless supply of choreography reminders and spare costume pieces. In Langley High School's production of "Gypsy," the mother of all stage mothers finally takes center stage.
First premiering on Broadway in 1959, "Gypsy" can easily be counted among the most iconic pieces of American theater, with four subsequent Broadway revivals and more popular musical standards than can be counted on one jazz hand. The story follows extreme stage mom Rose — a brash, domineering woman with an insatiable passion for show business — as she pushes her daughters June and Louise to have the life of vaudeville stardom she never had. But with the talkies slowly replacing vaudeville theater, the life of a performer just isn't what it used to be — and neither is Rose's relationship with her girls.
Langley High School has delivered a spectacularly dynamic, emotionally powerful production of "Gypsy." Every member of the sizable cast was visibly committed. From June's captivating ensemble of "newsboys" to the trio of sensual, self-confident burlesque dancers, each and every performer held enough flair to get the audience thoroughly excited.
The production found its most obvious star in senior Jamie Goodson, who played the driven, startlingly complex Rose. Carrying the weight of the show's narrative and emotional core on her shoulders, Goodson wowed with her maturity and nuance. The teen believably fell into the role of an older woman, weighed down by years of hardships but still pressing forwards. From her sweeter maternal moments with her daughters to her ultimate emotional break, Goodson's interpretation of Rose was heart-stoppingly realistic; even her smallest gestures carried a well of meaning. Her vocals, meanwhile, held a strength to match her character, with an expressiveness and range that thrilled in such magnetic musical numbers as "Rose's Turn."
Goodson also formed a poignant relationship with daughter Louise, played by Jessica Peros. The pair accurately portrayed the complexities of Louise and Rose's bond, showing the many layers of love, manipulation, and frustration. Peros herself showed a lovely transition in her character, moving from a timid, self-critical girl to an elegant, self-assured performer. Similarly skilled in the art of character development was sophomore Mark Bosset, who performed the role of Rose's longtime beau and manager Herbie. When his devotion to Rose finally shattered — when her desperation for showbiz success finally became too much — his rejection of her left audience members gasping.
Another onstage standout was junior Cuinn Casey, who literally leaped into the crowd's hearts in his role as Tulsa, a dancer in Rose's act with big dreams of his own. Casey's dancing was truly extraordinary — clean and sharp, reaching fantastic heights with every jump — and his facial expressiveness was delightful even in scenes when the focus lay elsewhere.
The students of Langley High School also found success with many of their technical elements. The onstage world was brought to vivid life through detailed sets and props, from the jumble of the backstage of a burlesque show to the era-appropriate telephones the actors handled. Lighting and special effects, meanwhile, helped to create some of the most astounding moments of the show, such as when, surrounded by strobe lights, the child actors were suddenly — seemingly magically — replaced by teenagers.
Langley High School created a production of "Gypsy" worthy of a hundred standing ovations — though the audience could only give them one. Even the high standards of Mama Rose would be satisfied.