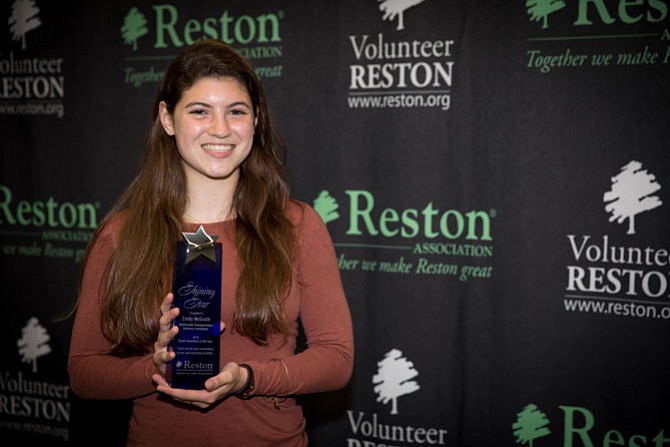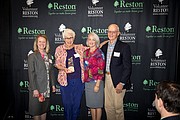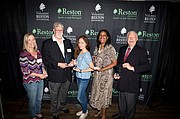 Leanna Kirkland was named Reston Association's Volunteer of the Year at a ceremony Thursday, April 27, to honor individuals and groups who have gotten involved in making Reston a better place to live, work and play.
Kirkland volunteered at numerous events throughout 2016, including the Multicultural Festival and the Nature House 5K race. She also helped to sort donated games and toys for the Closet at the Martin Luther King, Jr Day of Service, greeted families at the Halloween House and Trick-or-Treat Trail, and worked with the students at the Maker Faire NOVA.
The awards ceremony, held at The Lake House, honored volunteers in eight categories -- the most ever included in the annual celebration. This year's winners are as follows:
VOLUNTEER OF THE YEAR
Leanna Kirkland
2016 volunteer hours: 50
YOUTH VOLUNTEER OF THE YEAR
Emily McGrath, The Multimodal Transportation Advisory Committee member.
2016 volunteer hours: 50+
YOUTH GROUP VOLUNTEER
Chantilly High School Key Club
2016 volunteer hours: 50 hours
ADULT GROUP VOLUNTEER
RA Volunteer Photographers
Volunteers: William O'Brien, Kristina Alcorn, LeRoy Wallin, Colena Turner and Anna Kulyk.
2016 volunteer hours: 100+
FAMILY VOLUNTEER OF THE YEAR
Bond Family, Nature House Volunteers
Charlie and Julie Bond
2016 volunteer hours: 50+
GROUP VOLUNTEER SERVICE
Nominee: Natural Areas Assessments Team
2016 volunteer hours: 90
Volunteer activity: Assisted the Environmental Resource Team assesses the health of RA's open space.
Volunteers: Mike Horton, Don Coram, Farideh Mirmirani, Doug Britt
COMMUNITY PARTNER OF THE YEAR
Community Partner: United States Geological Survey
2016 volunteer hours: 100+
COMMITTEE VOLUNTEER OF THE YEAR
Committee Volunteer of the Year: The Parks & Recreation Advisory Committee (PRAC)
Members: Tara Cranford Teague, Mary Shedlock, Tyrone Gillum, Michael Batt and Elaine Killoran
2016 volunteer hours: 100+
Reston volunteers contributed more than 24,000 hours of their time last year. Volunteers, which number more than 1,300 individuals, businesses and organizations, are from a variety of age groups and possess a wide range of skill sets.
"Volunteering and community service are deeply rooted in our community's core values thanks to our founder Robert E. Simon, Jr.," said the association's CEO, Cate Fulkerson, in a press release. "Every year hundreds of volunteers support RA's mission by serving on the RA Board of Directors, one of our many advisory committees and work groups, helping with special events and programs or participating in cleanup projects at Reston lakes, in neighborhoods or along pathways. Volunteers are truly the backbone of Reston."
Anyone interested in getting involved and supporting Volunteer Reston can contact Ha Brock, Volunteer Reston Supervisor, at habrock@reston.org or 703-435-7986.