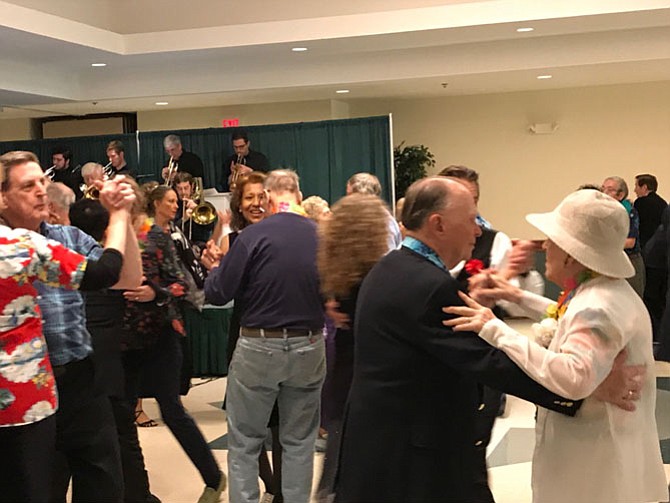 Reston — A very special prom held Sunday afternoon, May 7 may not have gone late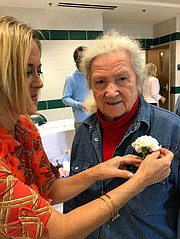 into the night, but then again who needs to put a timeframe on when to have fun? Senior citizens from the Dulles area and beyond began arriving at St. Joseph's Church in Herndon at 1:30 p.m., ready to kick up their heels and have a good a time at the 2017 Senior Senior Prom. Now in its 13th year of operation, the Herndon and Reston Rotary Clubs produced the free event with the generous support of many local organizations and businesses.
Like any prom, corsages and boutonnieres help make the event classy. As prom guests entered the hall, volunteers from Herndon and South Lakes High Schools' Interact Clubs were on hand to welcome guests and offer each a carnation, pinning it on their attire.
Pat Williams, of the Herndon Rotary Club, watched over the Welcoming Table as she has since 2009 when she came up with the idea for the event. Williams said, "Senior, Senior Prom can be fun. Prom goers get to relive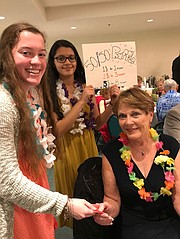 those days." For some guests though, Williams has learned it isn't about reliving their High School Prom but putting it "right." Earlier one senior had told Williams that she had been looking forward to the prom because when she went in the 1940s, all the boys were off to war, so the girls danced with each other. She was looking forward to dancing with the men.
During the prom, The Loudoun Jazz Ensemble played Big Band hits from the '40s for the guests' dancing and listening pleasure. Many couples took to the dance floor, not only during the gliding waltzes and continuous flowing foxtrots but the swing dancing as well. To preserve memories of the afternoon, Mark Sawatzki took complimentary event photographs of couples and friends and provided instant on-site printing.
The 50/50 raffle proved to be a great hit with prom goers, as was the coronation of Prom Queen, Eleanor L. Benedict and Prom King, Nick Kour. After receiving her jeweled crown, Benedict adjusted it on her head and said, "I'm so surprised. Does it look ok?"
A lasagna dinner, salad and dessert rounded out the celebratory afternoon. The prom seemed to go by much too fast for many guests who lingered and enjoyed the opportunity to socialize and talk with friends old and new.
For more information about the Rotary Clubs of Reston and Herndon as well as their High School counterpart organization, Interact, visit herndonrotary.org and restonrotary.org.