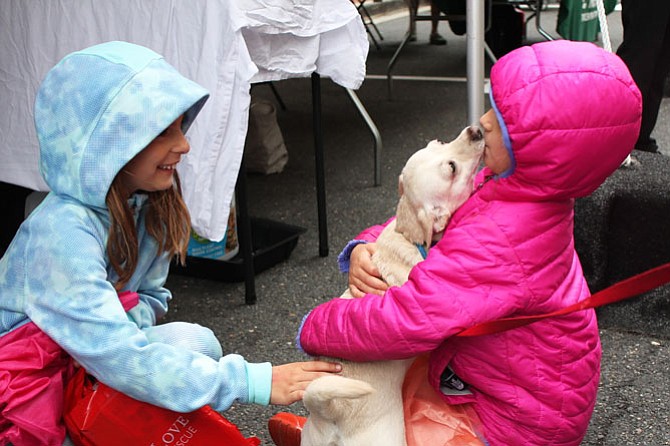 Reston — For dog and cat lovers of all ages, nothing much could have topped the 17th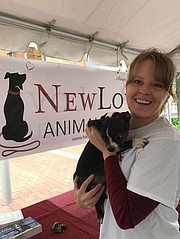 Annual Pet Fiesta held Saturday, May 6, at Reston Town Center. The outdoor festival featured commercial and nonprofit pet businesses, demonstrations and animals everywhere, in puppy playpens, on leashes, even pulling carts. For people looking for a special furry friend to meet and possibly offer it a forever home, Pet Fiesta was the place to be.
Reston Town Center, Hope Advanced Veterinary Center in Vienna and NOVADog magazine presented the event which benefited GoodDogz.org, a nonprofit organization dedicated to educating potential dog owners about dog care and selection and providing support to dog rescue organizations.
One of the newest nonprofit animal rescue leagues present at Pet Fiesta was New Love Animal Rescue.Rani Hart, Executive Director, said the organization is dedicated to saving animals in need regardless of the breed.Hart said, "Since our start in 2015, we have saved over 200 animals, many requiring medical assistance." She went on to say that the organization's tagline is"Give a Life of New Love to a Rescue Dog."
If an individual or family wanted to experience furry love with perhaps a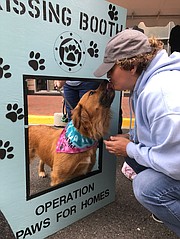 lesser time commitment than forever, many organizations offered flexible foster commitments and volunteer opportunities along with support. DC Paws Rescue was one such group. Representative Kate Viar shared the organization rescues animals from a facility that lacks resources to facilitate adoptions to the public, so rescue is very much the animals' only lifeline. Also, since DC Paws Rescue does not have a shelter, they rely on foster "pet-parents" to house their adoptable animals. During the fostering period, DC Paws provides the vet care, materials, training and a support coordinator to the foster parent(s) while the animal is in its temporary home.
With 106 vendors at Pet Fiesta, there was something of interest for most everyone. One unusual provider was Blue Ridge Veterinary Blood Bank, the largest all-canine volunteer blood bank in the U.S. According to Jocelyn Pratt, Blood Bank Director, the organization has more than 400 canine donors who donate blood every six weeks. The participating dogs receive wellness exams with lab work panels, disease tests, screenings and bags of treats. After the first year of donation, donors are eligible to receive complimentary blood or tests if the need arises.
Two other vendors that attracted much interest by event attendees were Paws of Honor and Veterans Moving Forward. Paws of Honor sought donations to help subsidize professional veterinary care for retired military and Police K9s. Their veterinary partner is Old Dominion Animal Health Center in McLean.
Veterans Moving Forward sought donations and volunteers to raise puppies to become skilled companion or service dogs, be puppy sitters or educate the public about the program.
While pets ruled at Pet Fiesta, there was fun and excitement for the human crowd too, starting with the Tails on Trails Dog Walk, the Dog House of Style and Fashion Show spotlighting the latest in doggie couture as dogs strutted down the "catwalk" and a Fiesta Fur-rific Prize Drawing.Onstage entertainment featured music by the Robert Mabe band and the South Bay Band. Face painting and people/pet caricature portraits rounded out the fun filled event.
For more information about vendors, pet adoptions, fostering, and volunteer opportunities visit www.gooddogz.org.