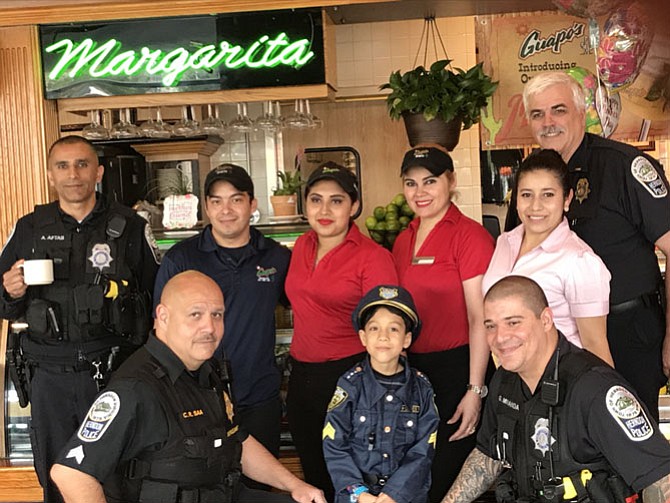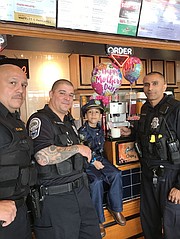 Citizens in the Town of Herndon had a chance to join their neighbors and local police officers at "Coffee with a Cop," held Sunday, May 7, 11 a.m.-1 p.m., at Guapo's Restaurant, 1042 Elden St. With no agenda or speeches, citizens had the chance to ask questions, voice their concerns and simply share a cup of joe with some of Herndon's men and women in blue and get to know them better.
Jane Ross, Herndon Police Department information specialist, joined the officers and families at Guapo's. When asked to explain the origins of Coffee with a Cop, Ross said it was a national program that originated a few years ago when members of a California police force were looking for ways to more successfully connect with the community they served every day.
It can be challenging for citizens and officers to casually mingle with those they protect, particularly when police foot beats are long gone and children and their families do not have a venue for face-face-interactions on a regular basis.
Coffee With a Cop worked in California, and it's working here in Herndon. Shortly after 11, Omar Ghannam, age 5 and a half, his parents and grandparents came into Guapo's, specifically to meet and talk with the officers. The family had been planning the visit since last week when Omar's grandfather saw the event poster on the door of Guapo's Restaurant. When Omar walked in, he wore a full police uniform — hat, shirt and pants. He even held a pair of handcuffs. With a little bit of shyness, Omar went up to officers like his family did and began chatting with them. When Omar was asked why he liked the officers, he said, "They park near my house and watch for speeders."
Officer Miranda of the Herndon Police Department was there. He talked about how Coffee with a Cop made a difference to him. "It's very important to me because this program provides a connection for us to families and kids in our community," Miranda said. "We are here to help. Coffee with a Cop is a great opportunity for us to meet families outside of crisis situations and support the Herndon Police Department."
The key to the success of the program appears to be exactly what Miranda said. After the event ended, Ross reported 30 people showed up to talk with the officers. Ross said the Department would seek to create additional Coffee With a Cop opportunities in the future.
For more information about this event and others, call the Herndon Police Department at 703-435-6828.