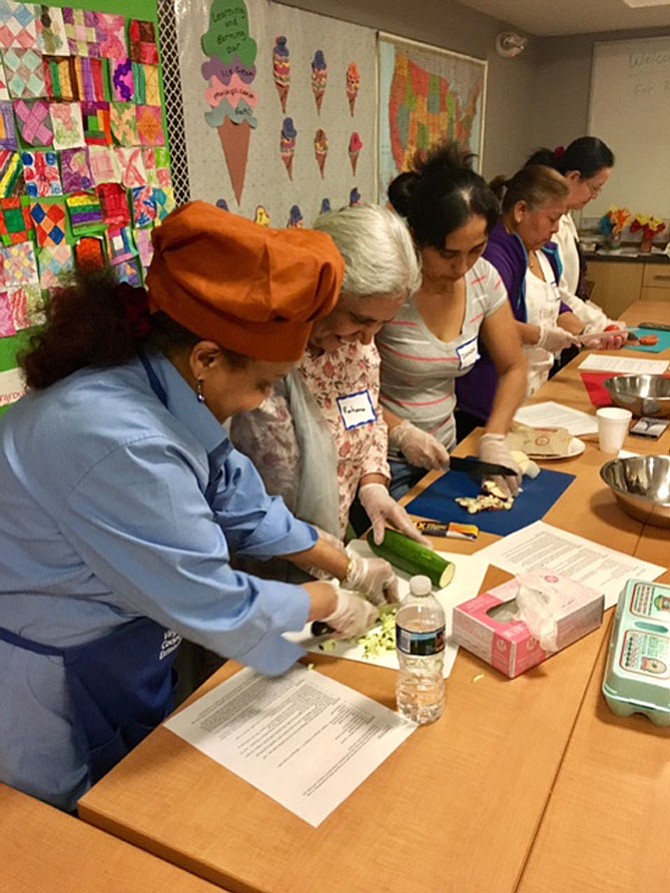 The recently-launched pilot program "Let's Get Cookin'" is taught by Family Nutrition Program Assistants in northern Virginia as part of the Virginia Cooperative Extension efforts to focus on healthy living strategies.
At Buchanan Garden Apartments on May 3, instructor Hareg Tecklu said,
"They interacted with each other and they loved it. They are learning together and eating together." This initiative began in March after a private donor offered to contribute to the program.
So far there are four programs in the Arlington-Alexandria area with almost 40 families participating. All of the programs are 4-6 week comprehensive lessons focused on nutrition knowledge and food preparation skills. Since the Family Nutrition Program works with limited-resource families and SNAP recipients, the donor suggested giving cookware sets to those who complete the program so they could use their new cooking skills.
Virginia Cooperative Extension is an education outreach partnership between Virginia Tech and Virginia State University "whose mission is to deliver education in agriculture and natural resources, family and consumer sciences, community viability and 4-H youth development in order to provide solutions to problems facing Virginians." To learn about contributing to the Let's Get Cookin' initiative, contact Stephanie Diehl at 540-432-6029 Ext. 015.