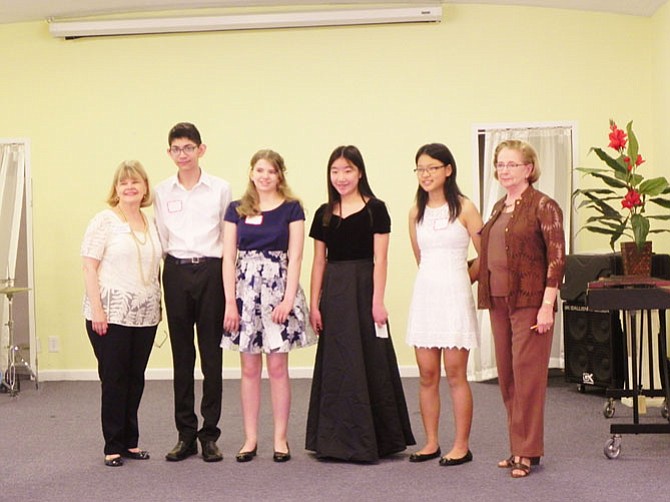 The musicianship of four students from Cooper and Longfellow middle schools, in McLean, was recognized by the Woman's Club of McLean at a ceremony on Tuesday, May 2, where the students also performed. Claire Fulton and Amanda Yo, of Cooper Middle School, performed on the violin and flute, respectively. Alex Gamboa and Joyce Qi, of Longfellow Middle School, played selections on the xylophone and violin, respectively. The four students each received an award of $100 from the Woman's Club.
Ten students at Chesterbrook, Churchill Road, Franklin Sherman, Kent Gardens and Spring Hill elementary schools received awards for their contributions as safety patrol members. The honorees were: Mateo Rampoldi and Alena Clark, of Chesterbrook Elementary; Emmeline Hogg and John Williamson, of Churchill Road Elementary; Andrew Evans and Alexandra Reddy, of Franklin Sherman Elementary; Keira Allen and Luke Dettleff, of Kent Gardens Elementary; and Ibrahim Al-Dalli and Gabriella Flamish, of Spring Hill Elementary. In addition to the trophy each student received, the safety patrol program at each school has received an $80 donation from the Woman's Club for program equipment.
The students' parents and the school principals, music directors and patrol sponsors attended the ceremony, as did Officer John Morris, school resource officer of the Fairfax County Police Department. The award ceremony is an annual event of the Woman's Club of McLean.