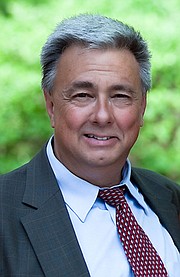 Michael Kane Zook, 64, died on Monday, May 1, at Inova Loudoun Hospital in Leesburg. He will be remembered for his strength, compassion and service to others.
Zook initially went into the hospital to have neck surgery.
"The surgery was very successful," said Cindy Zook, his high school sweetheart and wife since 1973. "He came home and then that night he collapsed."
It turned out that his brain was severely injured and he went into a coma as a result. He never woke up.
Zook's impact on his community as a long-time educator has affected the people he mentored throughout his 26 years in the Fairfax County Public School system. Most recently as assistant principal of McLean High School, he was planning to retire at the end of the school year.
"People from literally all over the world have been emailing us about stories about my husband," she said. "I'm getting letters from students at his school that said, 'I would have never graduated if it wasn't for your husband.' People are coming out of the woodwork talking about how what he did for them has changed their lives."
His death has been a loss for those who knew him — everybody.
STUDENTS AND TEACHERS have written letters, but his family even received a note from a cashier at Santini's New York Style Deli on Chain Bridge Road where he frequently ate lunch.
"As the main cashier at lunchtime, I had the pleasure of seeing Mike every day — always a smile and never complaining," the letter said. "When I asked about his summer vacation on Lake Anna with his family, his face lit up. He said it was fantastic and he loved spending so much time with his family. And he told me about his impending surgery and I tried to joke that the next spring he would be on vacation in Italy."
He went out of his way to express the compassion he had for his community and his loved ones.
When his daughter Sarah was having a challenging day as a freshman in college, she called her parents to talk about her concerns, according to Cindy. Though Sarah's school was a two-hour drive from their home, Zook hopped into his car.
"She had a really hard day and she called that evening in tears," Cindy said. "We were talking about it and he goes, 'I think she needs a hug.' He drove two hours, gave her a hug and turned around and came home."
His family has enjoyed reading the many mementos to the man they knew as a loving husband, father and grandpa, but hearing about how much he was loved by strangers has been a tremendous joy.
"It just has been the most extraordinary week," Cindy said. "Hundreds of these things are just pouring in from people. Every person that knew him, loved him. He was just this amazing man."
In 2014, Zook was honored during "Making a Difference Day" at Virginia Commonwealth University. The day was created as a way for freshmen to recognize teachers and counselors who influenced their lives and started them on a path to succeed at the university.
"He never ever was a person who liked the limelight, but everywhere he goes, he just touches people," Cindy said.
Current students were informed of the sad news of his death the following day in an email from Ellen Reilly, the school's principal.
"It is with deep sadness that I share with you the news that McLean High School Assistant Principal Mike Zook died yesterday following recent health complications," the email said. "Mr. Zook was a caring and thoughtful person and his friendship, guidance and leadership will be greatly missed … Those who knew Mr. Zook understood him to be a person of integrity whose life and dedication to his students, staff and community were an inspiration to all of us."
Mike was a servant leader who loved God, his family, his students and teachers, and his friends. He was involved in youth ministry and loved coaching softball and baseball, golfing, camping, and spending time at Lake Anna in Spotsylvania.
Mike was born in Fort Benning, Georgia, on Nov. 2, 1952, and graduated from Annandale High School. He was a journeyman plumber and a professional musician for 27 years. He also owned Masterworks Recording Studio for 12 years before becoming a teacher and then an administrator in the Fairfax County Public School system for 26 years.
He earned his Bachelor of Arts, Master of Arts and teaching endorsement from George Mason University. He taught math at Lanier Middle School and Robinson Middle School before becoming assistant principal at Hughes Middle School and later an assistant principal at McLean High School.
ZOOK is survived by his beloved wife, Cindy, his children, Ryan Zook and Sarah (John) Simek, his grandsons, Brayden, Landon, Reid, Evan and Parker. He is also survived by his siblings, Bill (Debbie) Zook, Jim (Marilynn) Zook, Sharon (Scott) Hubbard, John (Nancy) Zook, Chris (Julie) Zook, his brother-in-law Jeff (Patty) Taylor, 11 nieces, seven nephews and many dear friends. Mike was preceded in death by his parents William Eugene Zook and Betty Kane Zook and his brother Stephen Zook.
Zook's celebration of life service will be on Sunday, May 21, at 4 p.m. at the Cornerstone Chapel in Leesburg. In lieu of flowers, donations may be made in his honor to the DC Dream Center in Washington, D.C. He was involved in supporting the Southeast White House and DC Dream Center for over two decades.