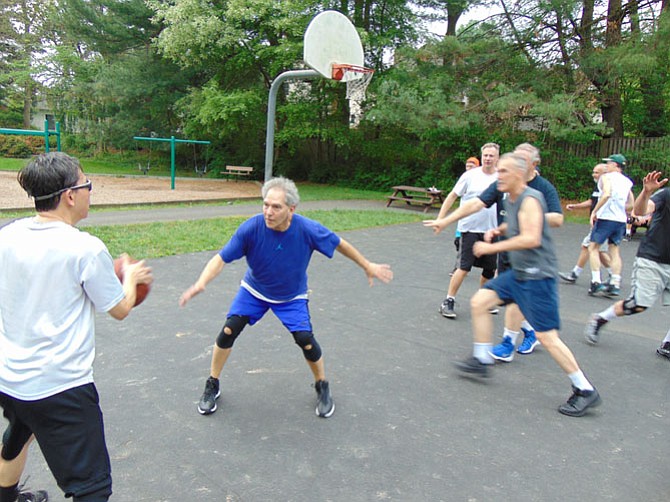 Some 24 years ago, Jack McHale, 65, founded the Grey Haired Basketball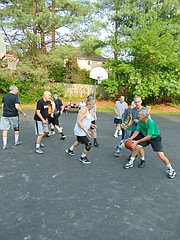 League for men in their 50s and 60s as a tongue-in-cheek gesture to have some fun and get a little bit of exercise. It serves about 160-175 players on 20 teams from Burke, Springfield, Fairfax, and elsewhere in Fairfax County. The players include a cardiac surgeon, orthopedic surgeon, and allergist, among many diverse professions.
"These are junkies; these are guys who love the game," said McHale, a marketing manager for a logistics company who's lived in Burke Centre for 36 years.
The teams play very informal games on a full-court every Sunday at 8 a.m. year-round for about two hours in Burke. Players have to be over age 35 to play; one guy is 73. They shoot hoops at The Ponds Court in Burke and at Accotink Academy School next to West Springfield High School during winter or when it rains. Their Burke court will soon be getting a $20,000 makeover with repaving and new baskets.
"This is all about community. It's about building community in an area where it's difficult to do," said McHale. "This is an opportunity to meet people and form friendships not related to your kids. This is a chance for people to come together and make friends through basketball."
The group meets for a 10-game regular season, and at the end they have playoffs. And Glory Days Grill provides their donated uniforms.
AS PART of his community outreach, McHale takes some of the Burke basketball players to McPherson Square in the District in a van provided by Shirley Casey of Shirley's Catering of Burke, to feed the homeless. They prepare homemade chicken chili and other goodies and pass it out to the disadvantaged people who live on the streets. He also takes some Burke basketball players with him to Guatemala for a yearly mission trip to experience a different culture and help the less-advantaged.
Andy Mercer, the oldest in the group at 73, of Annandale, who is retired from computer technology, has been playing for 15 years. He says what he enjoys the most are: "Number one is the jokes; number two is staying fit; number three is the jokes, and everything else is an unintended benefit." He added, "Sometimes getting out of bed is hard, but once I've loosened up to play, I can stay with these guys, although some days it's tough."
Bill Meskill, 54, of Burke works for the Department of Defense and has been playing about 14 years. He showed off the scar on his lips where he received 14 stitches from playing too rough a game. He said he also appreciates the camaraderie and the exercise. "People take it seriously, but there's no fighting and I guess throughout it all, you get to have a lot of jokes even while playing hard. Seemingly everyone knows each other; we can rip on anybody and everybody will kind of jump in, but nobody walks off with any animosity."
Joe Evancho, 60, of the Landings in Burke, who works for the U.S. government, has been playing basketball since 1987. He says he purchased the Burke house that belonged to McHale and enjoys the camaraderie of the game. "As we've gotten older, even though we've gotten a lot slower, you'll see some great movements out here, some good play," he said of their outings. "You have the competition and everyone's here to get good exercise."
Bill Onufrychuk, 65, of Fairfax Station is a retired real estate appraiser. He said the basketball offers him good community and friendship. "It's cheaper than therapy. You get out and laugh and just be with guys, and the basketball becomes secondary after a while," he said. "It's the opportunity to see friends and just act like a guy and get away from your responsibilities."
Jerry Glass, 62, from Queensgate in Burke, is president of a labor and HR consulting firm and has been playing for 30 years. He calls the experience "The two best hours of my week. I forget about everything else going on in my life. And it's something most of us really look forward to. It's a great release from the daily stresses of life."
Mark O'Meara, 64, of Kings Park West, who owns the theaters at University Mall and Cinema Arts in Fairfax, has been playing for 20 years. He calls the outings "good therapy." He said, "It's a group of old farts talking trash and nothing is sacred. It's an eclectic bunch of knuckleheads that love basketball."
SUPPLYING THE GROUP'S MUSIC is Matt Groppe, 60, of Fairfax Hunt, who is a sales executive for a global freight company. "We have everything from the 'National Anthem' (Marvin Gaye's version) to 'Sweet Georgia Brown'," said Groppe, who Googled NBA basketball theme songs to get a handle on what's popular during games. He too enjoys the great exercise and the brotherhood for 20 years. "I'm not known for my shooting," he said. "I'm known for my banter; about making fun of my fellow teammates...There's a little banter going up and down the court that has nothing to do with basketball."
Jerry Bradley, 65, of West Springfield, a retired special education teacher, grew up in Indiana where basketball is king. "These guys get tired of me talking about Indiana basketball. I played basketball all of my life. I met these guys 25 years ago playing in Burke basketball. I just like playing. It's just a good community," he said.
Bob McNamara, 69, of Burke is retired from the Pentagon. He said, "I love the game and it's great exercise, but this is such a nice group of men, and as you see we have a good rapport. We just have fun together." He added, "Occasionally, we have fathers and sons play together and that's such a treat. I think it's fun, too, for sons to see how older men relate to each other."