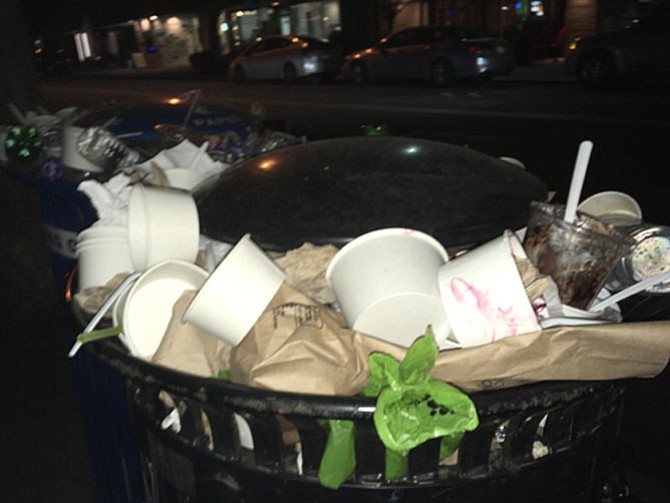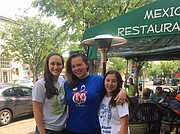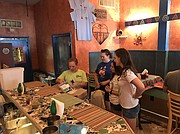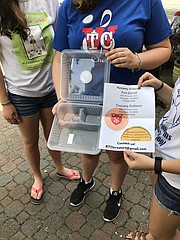 It wasn't their first idea for their year-long STEM program capstone project. After a few classes spent hashing out interesting yet impossible big picture ideas, T.C. Williams students Leila Rasmussen, Elspeth Collard and Bridget Williams narrowed down their ideas and agreed "it was obvious we were interested in helping the environment and working with people."
Rasmussen had been moved by the recent documentary "A Plastic Ocean" illustrating the impact that 8 million tons of disposable waste has in a year's time on the earth and its oceans. The team discussed a bit further and unanimously decided to pursue an idea that would benefit the environment to reduce waste.
The nearby Del Ray neighborhood was another seed of inspiration. Walking around the heart of Del Ray on Mt. Vernon Avenue, the students noticed the typical trash buildup from the thriving and high volume restaurants at week's end. When a Styrofoam leftover container caught their eye, the team's idea for the Del Ray Reusable Takeout Container Initiative (RTC) was hatched. To the girls, this community could be the perfect place to start the use of a reusable takeout container where "the point of it would be to reduce some plastic and Styrofoam waste on one-use items at the local level."
As Rasmussen said, "[Del Ray] is an awesome place for families, with a strip of great restaurants. It could really work in Del Ray because they are an active community where [we believe] people would be willing to help their environment to participate in something like this."
The premise was simple. Consumers would buy a container for their leftovers at restaurants and bring it back to use again and receive a discount for doing so.
With their initial idea fleshed out, the students began undertaking the tasks of creating their product container, enlisting restaurants and creating a scalable program for the containers' reuse in Del Ray.
Designing the product proved to be more complicated than expected. "Our teacher, Ms. Wilburn helped us to see that we were getting stuck on the idea that we had to design and create our own container. We just couldn't create it ourselves cost effectively. Ms. Wilburn stressed that it was fine to use an existing container and that our project's real work was the implementation of the program in the community, to help the environment and make sure [the program] could continue on without us at some point," said Williams.
The team found an online restaurant supplier that could provide the most cost effective version. It met all their specifications for being durable, BPA free, and microwave and dishwasher safe.
Another online company — Envision — helped them to create a waterproof label printed with their RTC logo design that could hold up for many washes. The RTC labeled containers could be given to the restaurants for $4.88 and sold to the public for $5.
Then came time to pitch their idea to both their high school and to the restaurants. T.C. Williams' PTSA offered them a grant of $270. With the grant they could start their program up by buying four packs of 12 containers, with $30 left over for the stickers' production and a plan to work up to buying their own domain for their website.
The initial reception from the restaurants didn't go as well. Armed with a flyer detailing their program, the initial approach to dropping in on various restaurants and trying to garner interest in the program fell flat.
The team gained a mentor, Donald Birchler, a T.C. parent and senior research scientist for the Center for Naval Analysis with a PhD in economics. As Williams recalled: "Mr. Birchler helped us resolve conflict and, at critical junctures, would take all our various input to put into one idea to move forward with. He gave us good ideas on how to approach and to communicate with the businesses. He told us different ways to get in touch with their people and assured us that they weren't necessarily giving us the cold shoulder, that they were truly busy. He provided us with the necessary guidance to keep track of the money with simply, one binder holding a record of all transactions."
The RTC team narrowed down their selection to two popular Del Ray restaurants and continued to pepper the owners with drop-by, calls and email requests to consider participating. Their persistence paid off when Bill Blackburn of Pork Barrel restaurant called the students back to say he would be willing to meet with them and listen to their program idea. Blackburn heard them out and said yes. As Collard recalled, "Bill said 'Yes, I will do the program with the stipulation that Jeff [Wallingford of Taquiro Pablano] would also participate in the program.' We had to go over to Taquiro Pablano and thankfully Jeff also agreed and was super enthusiastic."
Wallingford and Blackburn were impressed by the students. "Bill and I discussed it and thought it was a great idea and that there would be certain economies of scale and a synergy that we could work on and hopefully replicate up and down the Avenue. I believe in 'renew, reuse and recycle' and was really impressed with the girls persevering to gain our participation," Wallingford said. "I was pretty convinced early on that their efforts would more than spur the project on and that all I needed to do was help guide their vision with how it would work in the restaurant. The devil is in the details. A lot of ideas don't get off the ground because it works in the laboratory or in the boardroom but when it hits the street, it doesn't work with the end user — be it retailer, restaurant or customer. Not only were the girls persevering but they were also receptive to our ideas. They would tweak some concepts and weren't stuck to everything they had thought of. It was more of a two-way and team work approach."
The type of container with three separate sections was one requirement for the business owners. While the appeal of reducing waste was a big draw, the owners really liked that the $5 price point that would make for more personally "invested" customers who believe in the program.
Cities like Durham, N.C. currently offer container recycling program where participants pay a $25 yearly fee to use and return the containers that are then cleaned by restaurants for the next customer's use.
RTC's program works differently with consumers keeping their sturdy, bpa free, microwaveable and dishwasher safe container (guaranteed for one year) at home or in their car for more spontaneous dine-out. Collard likens this to "how people nowadays keep and reuse their recyclable grocery bags." After buying the container for $5, diners can bring the clean containers back to use for their leftovers from the participating Del Ray restaurants. As an added incentive for reuse, the participating restaurants offer a 10 percent discount off the meal's total bill. Every time the container is brought back to reuse, the discount is received again. Takeout is also discounted with the reusable container.
To the students this seemed the best way to get the restaurants to eliminate some of the use-once containers they use with their customers.
At this time, the RTC initiative has sold their containers to three Del Ray restaurants
— Taquiero Pablano, Pork Barrel and Los Tios. The girls will be reimbursed for the containers and can use the money to order more containers for their next round to keep the program going. The sophomores' initial goal is to sell all of the 56 containers available at the three restaurants beginning May 12. As the program goes on and more awareness is created, the team hopes to get more restaurants involved and eventually make the program Del Ray wide.
For the time being, the girls plans to promote their new program three-fold. They are going door to door around their neighborhoods with a sign-up sheet to take orders for containers. They plan to promote RTC to Del Ray customers with an informational stand at the Del Ray farmer's market on Saturday, May 6. And the announcements have begun on their Instagram and Twitter social media accounts (@RTCInitiative).
For their class requirements, the team will make a final presentation, Ted-talk style, in front of the STEM academy in June. The girls insist that they are not done at that point. Their longer term goal is to have six restaurants participating and to have sold 200 containers in the first three months.