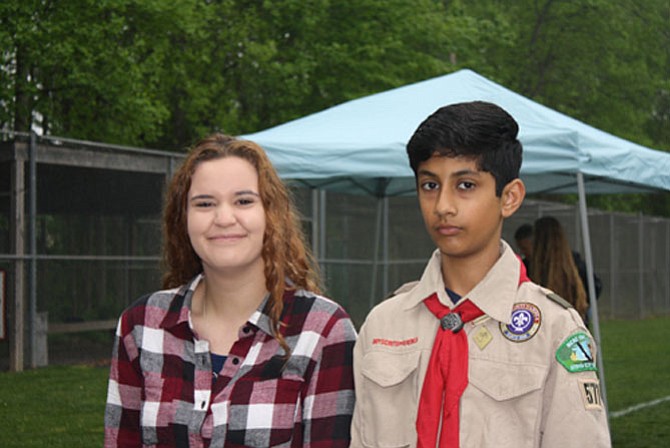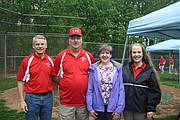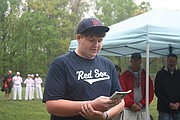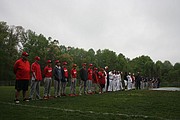 On what would have been an otherwise dismal day because of the rain, Southwest Youth Association Babe Ruth held its Opening Day on Saturday, April 22 at the LLV baseball diamond. Volunteers and players attended Opening Day ceremonies to the fanfare of the National Anthem, salutes to the American flag, and Krispy Kreme donut fundraising as part of the festivities.
As a stage setter for All Star play later this year, the House League teams began season play with the Red Sox outscoring the Northern Fairfax Babe Ruth Nationals opponent. This year' SYA Babe Ruth Opening Day begins another quest for teams eventually competing in All Star play. Prior years have seen three different SYA Babe Ruth age group teams winning post-season tournaments to qualify and win Virginia State Championships by one of the many All Star teams the league forms. Prior State Championships include: 13-15 year olds in 2016, 14 year olds in 2017, and 16-18 in 2017. In 2015, the 16-18 team also advanced to the Babe Ruth World Series in Oregon, placing third overall.
The day began early for Jenny Hughes who oversaw sales of Krispy Kreme donuts, distributing them to players and customers as part of fundraising activities. After presentation of the American Flag by the Chantilly Academy Air Force Junior ROTC Color Guard, Unit VA-20012, Yasmine Akl of Westfields High School sang the National Anthem. The Pledge of Allegiance followed, presented by the Boy Scouts' Jaidey Mehta. SYA President Brian Seeley made opening remarks, thanking the players, parents, umpires, volunteers and sponsors. Fifteen-year old Hunter Donati cited the Babe Ruth pledge, and SYA Vice President John Pyzdrowski read the League Mission Statement.
Sponsors in attendance included Cheers Sports, Joe Donatella; Summit Commercial Real Estate, Rick Henneberg; Elizabeth Sullivan Financial, Elizabeth Sullivan; and Kye Dowd and Bill Dowd, the Jimmy Fund. SYA appreciates the support of Sully District Supervisor Kathy Smith who was also in attendance, and Springfield District Supervisor Pat Herrity for his continued support.