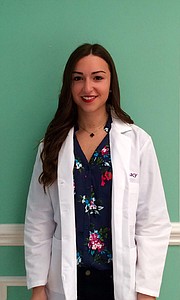 When you grow up or raise your children in one neighborhood, there is a good chance you'll become friendly with your neighborhood pharmacist. Up until last month, residents who filled their prescriptions at the Potomac Village Giant Pharmacy had pharmacist Elisabet Tassis to thank for their health maintenance.

Tassis said the opportunity to serve the community that she herself grew up in — filling thousands of prescriptions every week — was enough of a 'thank you" for her contributions to the health of the Potomac population.
"It is not lost on me that I got to serve people I grew up with," she said. "I saw parents and friends who recognized me behind the pharmacy counter from the days when I back in school. It was very meaningful that I got to serve these people."
It is also not lost on Tassis that she had a symbiotic relationship with the Potomac Village Giant Pharmacy as well as the patients that relied on her for their continued health. A grocery store like Giant, including the pharmacy, is for most people a place to shop for their sustenance. For Tassis, Giant laid an important foundation for her pharmaceutical career.
Now, Tassis embraces the next phase of her career, but she knows she couldn't pursue this next part of her professional life without her experience at Giant, where she supervised five pharmacists, five medical technicians and two clerks.
"My journey with Giant Pharmacy has been a great one and one that I will always hold dear to my heart," said Tassis, who is not yet 30 years old. "In only a year and a half, I rose to the top and managed two pharmacies in Maryland. There are people who spend their entire career with Giant and never reach the manager level."

She is now a medical science liaison for Osiris Therapeutics Inc., a biotechnology company headquartered in Columbia. But it was Potomac Village Giant where Tassis first discovered her passion for medicinal science. Having climbed through the ranks of Giant pharmacies quickly, becoming one of the youngest pharmacy managers in the company, Tassis has taken everything she's learned there to pursue a position in which she will be conducting life-saving research.
"I ultimately turned down the opportunity to manage the biggest store in the district, the 24-Hour pharmacy," she said. "I decided to leave because I wanted more of a challenge and I wanted to help people on a broader level through healthcare management."
This isn't the first Giant position that Tassis has walked away from. Before she even had her driver's license, she started her first paid job as an apprentice for the Potomac Village pharmacy manager at the time.
"When I was 15, I got a summer job at the same pharmacy I'm managing now, working for the then-pharmacy manager, Sherri Alpert," Tassis said. "No one in my family is in medicine. I fell into it by accident. The woman whose position I took over, Sherri, is the reason I became a pharmacist. I needed a job when I was 15, so I asked her if I could work for the pharmacy at that Giant. That's where I fell in love with the field. Sherri would bring me behind the counter and quiz me, so I learned so much. That's why, ever since I was 15, I knew I wanted to go to the University of Maryland to pursue my doctor of pharmacy."
Tassis attended Montgomery County Schools from first grade through high school graduation. She was valedictorian of the Winston Churchill High School Class of 2008.
After graduating from Johns Hopkins University in 2012 with a degree in chemistry, she entered the University of Maryland's pharmacy program. Throughout the seven years of schooling necessary for her to become a pharmacist, Tassis would pop into her old stomping grounds. During breaks from school, it was a priority for her to visit her mentor, Alpert, the pharmacist who had taken the 15-year-old Tassis under her wing.
"I would go back and visit Sherri whenever I had breaks from school," Tassis said. "I'm glad I did, because she got to see me evolve."
When Alpert retired last year from her lead role at the Potomac Village Giant Pharmacy, where she had served for more than 30 years, she knew that there was only one person who could properly take over as the pharmacy manager: her protégé, Tassis.
Alpert said she saw something special in the teenaged Tassis, who was already eager to learn more about the field of pharmacy, and to serve her community.
"Even when she was 15, I was impressed by her keen intellectual aptitude, emotional maturity, commitment, and organizational skills," Alpert said. "She expressed a sincere desire to put her scientific academic excellence to bear in serving her community meaningfully. Elisabet interfaced brilliantly with customers and co-workers alike. Consequently, when I was contemplating retiring from my 34-year career as a Giant Pharmacy manager, most of that time in Potomac, it occurred to me that Elisabet would be ideally suited, despite her young age, to assume the helm. It was most important to me that my beloved customers and fabulous pharmacy team continue to be well-served."
By the time she left last month, Tassis had already come "full circle" within Giant pharmacies.
"I started at the Shady Grove Giant as a staff pharmacist in 2015," Tassis said. "The company promoted me to pharmacy manager within months. I was transferred to Potomac to manage the pharmacy after Sherri left. I was the youngest manager in the district. Without even a year's experience, I got promoted, which is pretty fast. It was a great honor to come full circle with such a great pharmacy."
Tassis said she did accomplish all her goals at Potomac Village, so she knew it was time to move on.
"I'm very excited to be joining the Osiris team," she said. "This company offers unique regenerative medicine products that are used in areas such as wound care, surgery, and sports medicine. I hope to contribute to research and publications and to get more people access to the wonderful products this company offers. I hope that my contributions will help this company grow and ultimately help people who will benefit from use of these cutting-edge products. In this current position, I will be able to interact with more clinicians, attend conferences, and help with research collection and publications."
Even though Tassis is no longer working with Giant, she encourages Potomac residents to take advantage of all the pharmacy's offerings.
"Lots of people don't know that flu shots are available mid-August," she said. "I always recommend for people to get them early since it takes about two weeks for it to work. Giant is also always providing pneumonia and shingles shots as well. People do not need a prescription for the pneumonia shot and people over 65 years old do not need a prescription for the shingles shot. I highly recommend that people get vaccinated and head to Giant to get them done."