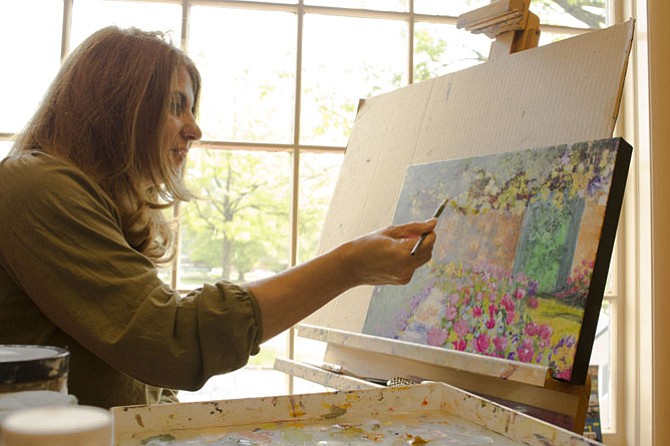 Great Falls is a muse for many of its artists in residence.
"It was just luck that I managed to catch it," said Coty Dickson. "You know how foxes are, they're usually after something. This one was just kind of sitting there."
Dickson captured the fox with a camera. The image of the Great Falls wildlife was now the subject of her newest oil painting. It was on display as a work in progress among her other Great Falls-inspired creations at the Artists on the Green studio in the Great Falls Village Centre.
Dickson's artwork was just one of many at the Great Falls Studios Spring ArtFest last weekend, April 29-30.
The event displayed local artists' creations — woven materials, paintings, photographs, prints, pottery, sculptures and jewelry — at the Great Falls Village Centre, the Grange and the Old Forestville Schoolhouse.
The Great Falls Studios is an organization of more than 100 independent artists living in Great Falls. Its artists' work is featured in group exhibitions throughout the community. The Spring ArtFest featured artists included:
Great Falls Grange
Upstairs — Begoña Morton, Jim Diedrich, Mary Ellen Mogee, Doreen Montis, Linda Jones, and Vad Moskowitz
Downstairs — Bob Gilbert, Robin Smith, Irrum Merrill, Nasrin Khazaei, Dean Souleles, and The Arts of Great Falls
Old Forestville Schoolhouse
Leslie Anthony, Jan Heginbotham, Dee Leggett, and Karen Roll
Great Falls Village Centre
The Artists' Atelier — Jill Banks, Roberta Beasley, Jennifer Duncan, Elaine Elinsky, Cindy Grisdela, Carol Howard, Walt Lawrence, John Francis McCabe, and Chris Rollins
The Artists' Loft — Cindi Berry and Donna Robinson
Artists on the Green — Connie Costello, Coty Dickson, Layla Gray, and Joyce Lee
Artists will open their doors for the annual Great Falls Studios Art Tour this fall. The three-day tour is planned for Oct. 20-22 at various locations throughout the community.