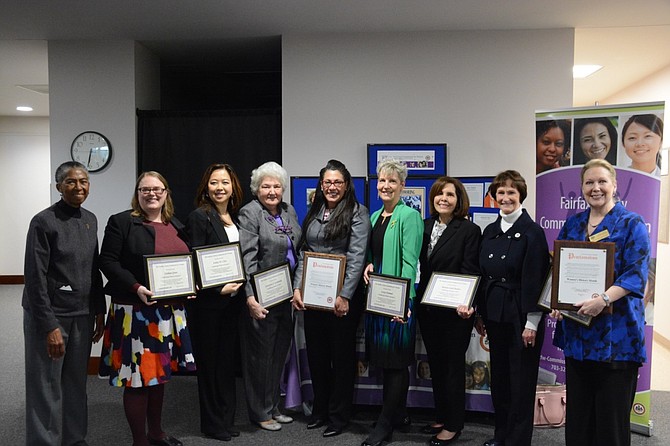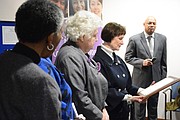 Constance "Connie" Cordovilla remembers signing up for college courses in the mid-'60s and being interested in taking electrical engineering. "Nice girls go into English," her counselor told her. "What makes you think I'm a nice girl?" she said she responded.
Cordovilla is associate director, Human Rights and Community Relations, American Federation of Teachers (AFT), AFL-CIO. She was recognized as one of seven "Trailblazing Women in Labor and Business" for 2017 by the Fairfax County Commission for Women.
The recognition ceremony was rescheduled due to snow and held Wednesday, March 22 at the county government center.
Sondra Seba Hemenway, women's commission vice chair and at-large commissioner, said the evening was about recognizing how women had made significant contributions in labor and business, and had an impact on history and the lives of others.
"Women have always worked, and not always been paid the same, or at all," Seba Hemenway said. "This year we've identified seven truly remarkable women" to recognize.
This year was the first for which the commission accepted nominations for honorees.
Fairfax County Board of Supervisors chairman Sharon Bulova said her path for being elected and serving as both a supervisor and chairman — as a woman — was made easier by "strong women who came before me." Previous chairs Jean Packard, Audrey Moore and Kate Hanley helped residents to be more comfortable with women representing them in local government.
"But there's still work to do," Bulova said.
Supervisor Cathy Hudgins (D-Hunter Mill) added they need to "work to make certain, continue to see that everyone has the opportunity to excel."
"This year, women's rights and issues are front and center," said honoree Patricia "Pat" Saah Bayliss, former executive director, office manager and secretary, American Federation of State, County and Municipal Employees (AFSCME). "These are some things we need to be more aware of."
Bulova and Hudgins helped present a Board of Supervisors proclamation naming March 2017 Virginia Women's History Month.
In addition to Cordovilla and Saah Bayliss, the other award honorees include:
Dolores Trevino-Gerber, First Vice President, NOVA Labor Federation; Secretary, Tenants-Workers United

Staci L. Redmon, president, CEO and owner, Strategy and Management Services, Inc.

Ashley W. Chen, president and CEO, ActioNet

Siobhan Green, co-owner, CEO, Lead Technology and Open Data Strategist, Sonjara, Inc.

Lovey Hammel, president, Employment Enterprises, Inc.
More information about the Commission For Women's 2017 honorees is available online here.