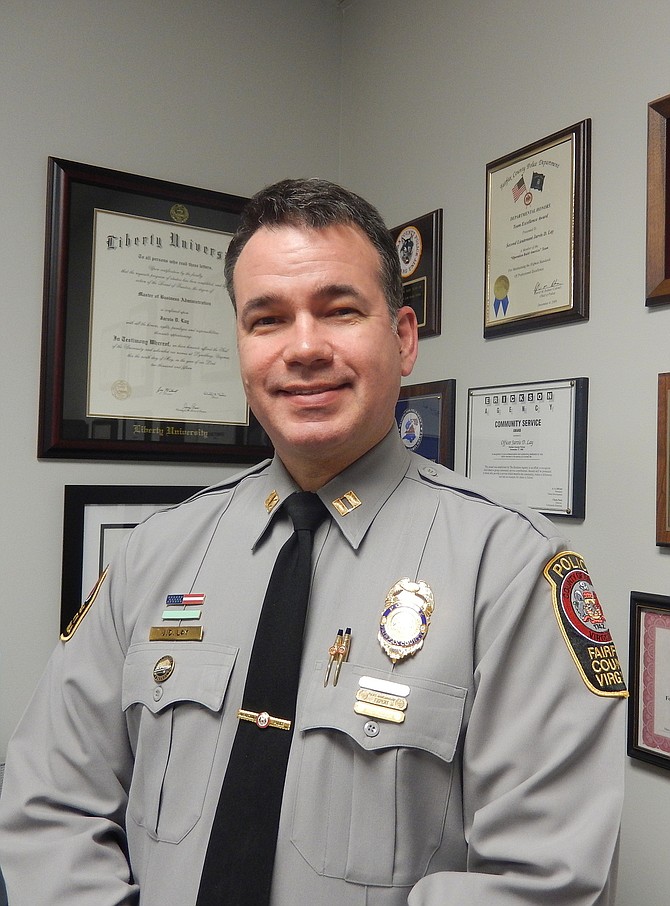 Capt. Dean Lay has only been the commander of the Sully District Police Station for six months, but he's been a member of the Fairfax County Police Department for nearly 24 years. And before that, he served in the military.
Originally from Currituck County, N.C., he joined the Air Force at age 19. He was with a K-9 unit guarding Presidents Bush and Clinton, spending two years assigned to Air Force One. He also served three years in narcotics detection.
Then in 1993, he applied to the Police Department here. "My dad, a Vietnam veteran, was in the Navy," said Lay. "So after having moved so much, growing up in the military, I wanted to plant my feet somewhere." He also married and became the father of three boys and two girls, now ages 3-22.
His first assignment was as a patrol officer at the Franconia District Station. He then worked fraud and forgery cases with a shopping-center unit. He was also in the Civil Disturbance Unit and was one of the first coordinators of the Police Department's newly formed Gang Investigations Unit.
Lay made detective in 1997. "We worked out of police headquarters in the Massey Building, and it took special techniques and talents to work with the gangs," he said. "Then I went to the Federal Law Enforcement Training Center in New Mexico to learn Spanish to work with the victims of gang violence. And many times, the victims were the gang members, so we made a lot of progress."
In 2002, Lay was promoted to sergeant, assigned to the West Springfield station and then to Franconia again. His career then took another twist. "The federal prosecutor for the Eastern District of Virginia called and asked for me to be assigned to a Public Corruption, Labor Fraud and Immigration Fraud task force," he said. "It was based on one of the cases I'd been working on as part of the gang unit."
"It was rare for them to allow a sergeant to continue working on that case at a higher level on a federal task force," said Lay. "I worked on this case and on a political-asylum case involving human trafficking, along with other federal agencies. They ended up becoming huge cases."
Afterward, in 2005, he was appointed to the National Capital Regional Intelligence Center in Northern Virginia. He described it as a "fusion center" where various federal, state and local jurisdictions shared information to prevent crime.
"I was the supervisor on any cases that could affect public safety, including terrorism," said Lay. "We had lots of interesting cases; I was part of the national effort to combat terrorism and organized crime, and I worked with the FBI and the Department of Homeland Security."
Promoted to second lieutenant in 2006, he then became director of that center, now called the Northern Virginia Regional Intelligence Center, until October 2011. "As rewarding as that was, I wanted to get back to my police roots — because that's the career I signed up for," he said.
From 2011-13, Lay was back at Franconia as that station's bike team and patrol supervisor. "I also managed the Assault Task Force," he added. "Men were assaulting women and running, and people were afraid to go out — and we stopped that."
Next, in 2013, he was promoted to first lieutenant and served as a police liaison commander at the McConnell Public Safety and Transportation Operations Center in Fairfax. As such, he was the liaison between the fire and police departments, Office of Emergency Management, state police and the emergency call-takers.
Then, surprise — Lay returned once more to Franconia in 2014; but this time, he was the station's assistant commander. After just a year, he was promoted to captain and was sent to the Office of the Chief, Planning and Research Bureau. There he commanded the Crime Analysis, Intelligence and Crime Prevention programs.
And after county Board of Supervisors Chairman Sharon Bulova established the Communities of Trust Committee in December 2014, Lay worked on it with her, committee Chairman Shirley Ginwright and Police Chief Ed Roessler. The diverse group focuses on strengthening bonds and building positive relationships between public-safety agencies and the communities they serve.
Lay planned Public Safety Days, where residents and police would gather informally to play games and get to know each other as people. He also researched the best practices for the Police Department to follow.
Then in September 2016, he came to the Sully District Station as its new commander. He replaced Capt. Bob Blakley, who became commander of the Police Department's Traffic Division.
"I like serving people and the officers; I enjoy it," said Lay. "As a kid, I volunteered to help children with disabilities. And as an adult, I helped construct an orphanage in Zambia, Africa, with a church group. My kids also helped build a school in Haiti. So for me, being here [at Sully] is another way to make a difference and to give back."
And with 107 officers to cover 70 square miles, Lay said working at this station is never routine. He's also happy to be there. "The citizens are outstanding; they're the reason this community is such a great one," he said. "They're very supportive and thank us for jobs well done, whenever we're out and about." And knowing that this area is home to diverse residents from all walks of life and socio-economic statuses, he believes it's important for police to do all they can to establish trust in the community.
With larceny from vehicles being the district's most-frequent offense, Lay would like to strengthen the station's Neighborhood Patrol Unit and community-outreach efforts. "And I want the officers to feel like they're part of the community," he said. "For example, they should introduce themselves to business owners and residents."
As for him, he's going to start attending homeowners' association meetings. Basically, said Lay, "I want to come to the community, let people hear from the Police Department and listen to people's concerns."