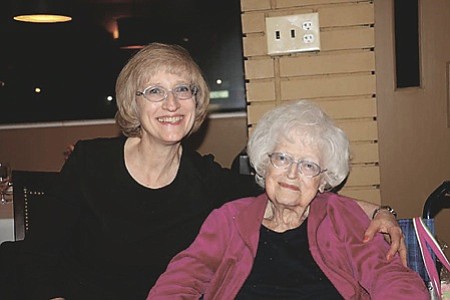 At age 99, Eleanor W. Bune, of Arlington, recently celebrated her March birthday at a dinner party held at Essy's Carriage House in Arlington that her daughter, Karen L. Bune, organized. A 64-year-old guest said, "I've never known anyone 99-years-old." Her internist, Dr. Lawrence Stein, said, "You've reached a milestone."
Eleanor Bune enjoys good discussions, reading the newspaper, keeping up with current events, and dining out. Despite some health issues and the pain of arthritis that embrace the elder years, she keeps going. She lives with her daughter and says Karen is of great help to her.
Karen Bune is employed as the patient relations manager for Inova Alexandria Hospital. "I'm assisting the patients at the hospital and also caring for my mom. I'm truly in the caregiver role," Karen Bune said.
Karen Bune credits Stein for her mother's success in reaching age 99. "Dr. Stein is my hero, and he holds a special place in my heart always. In 1996, he saved her life when she was seriously ill with pneumonia. If it weren't for him, she would not be here today. He is a physician that truly cares about his patients, and he is #1 in my book," she said.
Essy and Janet Saedi, the owners of the restaurant, always provide a warm welcome to Eleanor and her daughter. Noting Eleanor Bune's spirit for her age, Essy Saedi always asks with a smile, "Are you ready to go to Georgetown with me?"