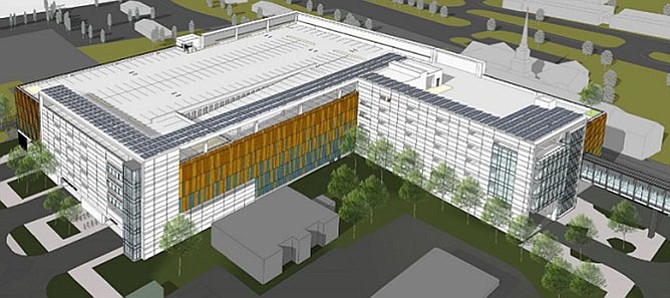 Fairfax County residents are invited to attend a public meeting in the Key Middle School cafeteria at 6402 Franconia Road, Springfield, on Thursday, April 20, at 7 p.m. to hear information about the new Springfield Community Business Center commuter parking garage, which will be built at 7039 Old Keene Mill Road.
The proposed Springfield Community Business Center (CBC) commuter parking garage project includes a six-story, approximately 1,100-space parking garage and transit center on an approximately 2.71-acre site that is owned by Fairfax County and currently used as a paved commuter and ride share parking lot. The proposed transit center will include seven bus bays and 12 "slug line" spaces (i.e., informal rideshare). A pedestrian bridge connecting Springfield Plaza to the parking garage is also proposed. Other features include bicycle storage, passenger waiting areas, a community area on the ground floor and on the rooftop. Construction on this $63.8 million project is scheduled to begin in fall 2019.
Following the April 20 meeting, a 10-day public comment period will be open until May 4. Comments may be sent via the project website at www.fairfaxcounty.gov/fcdot/springfieldgarage.htm, or emailed to Project Manager Deepak Bhinge, P.E., PMP. Written comments may be mailed to or dropped off prior to May 4 at Fairfax County Department of Public Works at Environmental Services, 12000 Government Center Parkway, Suite 449, Fairfax, VA 22035. Reference "Springfield Parking Garage Comments" in the subject heading.