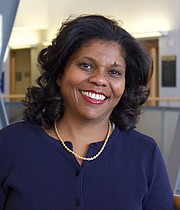 Dr. Marianne Ward-Peradoza, a longtime faculty member and administrator at Loyola University Maryland, has been named dean of Marymount University's School of Business Administration. She will begin her duties July 1.
During her 16 years at Loyola, Ward-Peradoza has served in many leadership roles. She has been associate dean – academic for the Sellinger School of Business and Management since 2014. Prior to that, she chaired the Department of Economics. She has also served as director of the Global Studies Program involving the School of Business and the College of Arts and Sciences.
She assumes leadership of the School of Business Administration from longtime Dean James Ryerson, who has elected to return to the classroom.
Ward-Peradoza earned her master's degree and Ph.D. in economics from the University of Miami and a bachelor's in International Studies/Economics from American University. She has experience in curriculum development and reform, strategic planning, fundraising and faculty hiring and development.