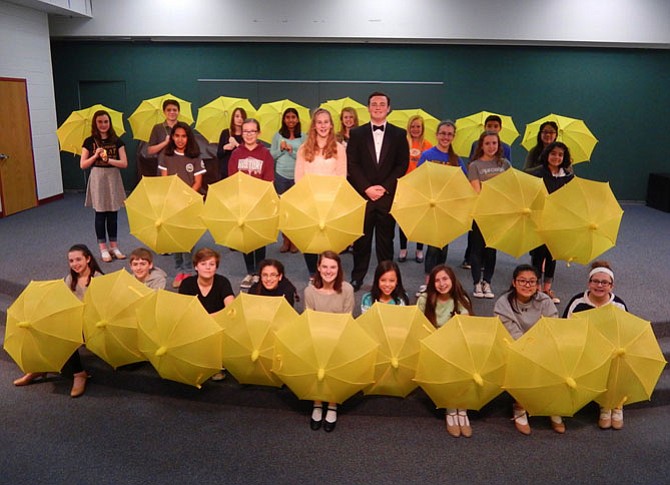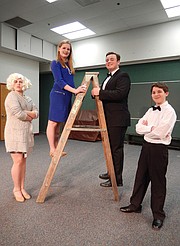 "We're only seventh- and eighth-graders, but this production illustrates how much middle-schoolers can do when we put our minds to it."
— Adam Fritsche
Like a colorful rainbow after a storm, "Singin' in the Rain Jr." is set to burst upon the Liberty Middle School stage. Show times are Thursday-Saturday, March 30-31 and April 1, at 7 p.m.; tickets are $5 at the door.
The story's set in 1927 Los Angeles, during a movie production. It features a cast and crew of 55 who've rehearsed since early November, and Director Jody Scott says this musical will really be something special. "The audience is going to laugh hysterically and love all the dancing, singing, comedy and romance," she said. "It's a thoroughly entertaining production."
She's also pleased that, in this show's junior version, the ensemble is included in all the musical numbers people know from the movie. So, for example, in the iconic title number, 30 people sing and dance with 30 umbrellas.
Actually, said Scott, "There's a ton of dancing in this show; it's spirited and high-energy and will have the audience tapping their toes. There are also distinct characters, and I'm very proud of my talented actors. They've worked diligently at perfecting their roles to bring them to life." She praised Musical Director Gary Verhagen, too, saying he's "helped me tremendously. He's invaluable; whatever's needed, he steps right in."
She said Liberty's never done a show with so many costumes — each person has at least four. The girls wear velvet and satin dresses, period jewelry, some flapper dresses and even fancy headpieces for a tango number. The boys sport everything from work clothes to sweater vests with trousers to tuxedos with bow ties. The scenes take place at a Hollywood movie premiere, a party, on a movie stage and outside of Hollywood Hills.
Playing the lead role of actor Don Lockwood is eighth-grader Adam Fritsche. "Don does silent films for Monumental Pictures; but now, he's doing the studio's first-ever 'talkie,' called 'The Dueling Cavalier,'" said Fritsche. "But the premiere gets bad reviews and Don thinks he's through as an actor. So his best friend Cosmo suggests they turn the movie into a musical."
Lockwood and actress Kathy Selden have an argument at the outset, followed by a love/hate relationship until he apologizes to her and a romance begins to bloom. They can both sing and dance, but the movie's lead actress, Lina Lamont, can't because of her high-pitched voice. So Selden's voice is dubbed in for her to save the movie.
Fritsche describes Lockwood as a perfectionist and hard worker who cares about his career and "needs to get everything right. But he's not self-centered and is actually a sweet, good guy. He can take a joke and have fun, and he definitely cares about other people besides himself."
Excited about his role, Fritsche likes portraying Lockwood's different moods. "It's fun being a romantic lead and nice having a responsibility like this," he said. "It helps my confidence. The whole cast is basically a family, so I get a lot of support from everybody."
His favorite number is "You Were Meant for Me," in which his character serenades Selden. "I have to show my love for her by my singing, dancing and facial expressions," said Fritsche. "Ms. Scott always says 'acting is reacting,' and I demonstrate that in this song. I also get to climb on a ladder during this number."
He said the audience will love Lina's voice and character, Cosmo's jokes and a surprise near the end of the story. "There's so much to like about this show," said Fritsche. "The choreography is outstanding; Ms. Scott put a lot of work into it and it shows. And Mr. Verhagen makes sure the music is perfect. We're only seventh- and eighth-graders, but this production illustrates how much middle-schoolers can do when we put our minds to it. But we wouldn't have as good a show without Mr. Verhagen and Ms. Scott."
Classmate Makayla Parker portrays aspiring actress Selden. "She's subtle and loud at the same time and gets her points across," said Parker. "She's friendly and people like her, but she can be a jerk sometimes. She has a crush on Don, who's more famous than her, but she doesn't tell him at first. She's a more fully developed character than my previous roles, so I have to mix opposing emotions. But it's fun playing a lead because I'm onstage a lot and I love acting."
Parker especially likes the song, "Moses Supposes," sung by Don, Cosmo, a diction teacher and the ensemble. "They turn a tongue-twister into a song," she said. "And it reminds me of 'They Both Reached for the Gun' in the musical, 'Chicago.'"
She said this show is like a Broadway musical, with something for everyone. "Musically, there are nice and pretty songs, but also some rougher around the edges and some that could come from off-Broadway," said Parker. "And the story is really funny."
Playing the show's most comic character, Cosmo Brown, is eighth-grader Zach Nofal. "Cosmo has all the quips and one-liners," said Nofal. "He's Don's best friend and plays the music for the movie studio. He's funny and smart, but doesn't quite get when he's being a third wheel and shouldn't be there. He's a little full of himself and is constantly making jokes."
Nofal loves his part because "It's always fun getting a ton of laughs. I get to be goofy and weird and not as serious as some of the other characters, and I get to make people happy." In fact, his favorite song is one that he sings, appropriately called, "Make 'em Laugh." In this comic number, he said, "Don's feeling down, so I'm telling him to just be happy and make people laugh."
He said all the actors are really good and, since it's a romantic comedy, "There are several moments in the story that lots of people can relate to. And the audience will love the songs and choreography."
Classmate Lucy La Croix plays the show's unforgettable Lina Lamont. "To the max, she's the definition of a dumb blonde," said La Croix. "She's never happy, but is either angry or confused, throughout the whole play. She's the villain who causes problems for everybody. She doesn't want Don and Kathy to get together because, according to the movie magazines, he's Lina's fiancé — and the movie studio likes the publicity."
La Croix called her character fun to play because "she has a really cool, high-pitched, squeaky, repulsive voice. And she's always in the center of trouble. Villains are interesting because they're examples of what not to do in life." La Croix also likes singing the song, "What's Wrong with Me?" in which she's perplexed: "She tells herself she's a beautiful, amazing woman with so many fans, and she wonders why Don won't kiss her."
Overall, she said, the audience should love this show. "They'll like the Broadway-type choreography, and the bright colors of the costumes really pop onstage," said La Croix. "The acting and singing are also very good – we've all worked really hard."