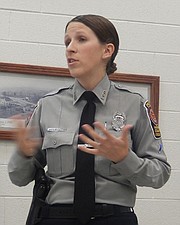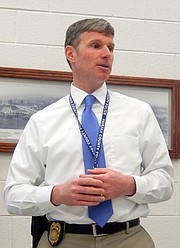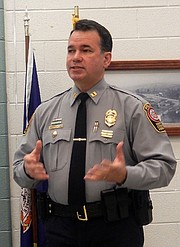 Local residents are safe and in good hands and has a police department that does all it can to protect their welfare. That was the message given by officers of the Sully District Station during a recent State of the Station presentation.
Crime Prevention Specialist Tara Gerhard started things off by relating some of the station's many crime-prevention initiatives during 2016. She noted Trash Talks in the Virginia Run community, where police put stickers saying, "Keep kids alive – drive 25" on trash cans there to remind drivers to slow down.
They also encouraged neighborhood traffic safety via a program called Neighborhood Beams and held safety seminars for senior citizens. And an Exchange Zone was established in the station's front parking lot so people buying or selling things online could make the monetary exchange in a safe environment.
A police cruiser was specially wrapped all over in messages telling people not to drink and drive. And on Bike to School Day, police bicycle officers rode to schools with children who were walking. Officers also held personal-safety seminars for residents and provided Neighborhood Watch training for various communities.
They held monthly Citizens Advisory Committee meetings on a variety of topics to keep local residents informed about what's happening in their local police station and in their communities. And they offered Worship Watch, advising churches how to remain safe and crime-free.
Sully police collected 1,000 pounds of prescription drugs in 24 hours during a Drug Take-Bake program, and they got to mingle and chat with residents during the annual National Night Out event last August. Other community-outreach initiatives included Scout safety talks, daycare-center and preschool visits, child car-seat installations, the car-fit program for seniors, Touch-A-Truck, a Pokéthon and home-security surveys.
They also held Coffee with a Cop, inviting residents to chat with them in front of Starbucks. And during Pizza with a Cop, police visited areas where at-risk youth live to build better relationships with them and give them tips on staying safe. They spoke with kindergartners at Virginia Run Elementary, held a Bike Rodeo and went to Dulles Airport to meet an honor flight carrying WWII and Korean War veterans.
And during the Christmas holidays, Sully police collected food for more than 40 families in need in their district, shared crime-prevention information via the Holiday Cheer program and donated a bike to a boy whose own bicycle was stolen.
NEXT TO SPEAK was Lt. Andrew Wright, in charge of the station's bike and traffic-safety teams. Their safety initiatives last year included Operation Safe Zone in school safety zones, Operation Big Rig doing truck inspections and assisting State Police in enforcing the move-over law.
They also participated in the anti-speeding campaign, "10 Over, Get Pulled Over;" Operation Family Safety and Click It or Ticket, both urging children and adults to wear their seat belts; plus a campaign telling people to drive 25 mph in neighborhoods because children's lives depend on them doing so.
The actions of the bike team/neighborhood patrol unit also led to arrests. In one of them, two bike officers in the Centrewood Plaza parking lot saw someone trying to sell several thousand dollars' worth of stolen merchandise out of the trunk of a car. In another incident, said Wright, "They followed up on a tip from our detectives that a vehicle was being driven to the home of a known drug dealer. They arrested the driver and charged him and seized drugs and drug money. In addition, a missing juvenile in the back seat was reunited with his family."
Giving a statistical crime overview, he said the Sully District Station had 84,990 calls for service in 2016, compared with 84,051 in 2015. In 2016, there were 1,132 accidents — 71 alcohol-related — compared to 1,315 in 2015; two in 2016 were fatal, compared to 25 traffic fatalities, countywide.
Wright said Sully police took 6,987 incident reports last year and made 2,327 arrests. "And we're down 4 percent [from 2015] in major crimes," he told residents. "So you really live in a safe community."
Regarding the types of criminal offenses police see here, he included forgery, such as checks stolen from envelopes in people's mailboxes, and people who put someone else's registration sticker onto another vehicle having an expired sticker. He also noted extortion, such as phone scams in which callers demanded money for supposedly kidnapped relatives.
AS FOR ROBBERY, Wright said one-third of offenders are known to their victims and some of the victims were intoxicated at the time. He said police also dealt with weapons violations, including people brandishing a gun after police traffic stops or during road-rage incidents, and that 56 percent of these cases were successfully closed. Also last year, Sully police issued 15,170 traffic citations and 1,862 warning tickets.
Lt. Todd Kinkead, head of the station's Criminal Investigations Section, also presented information about 2016's criminal cases. "We've got some really good detectives," he said. "[Currently], we're working on tying one guy to 26 burglaries over four different jurisdictions. He was in debt, so he broke into houses and stole what he could. So lock up your homes, cars and valuables — and don't leave things such as guns and computers in plain sight in unlocked cars."
Kinkead said his office was assigned 219 cases in 2016, compared to 400, two years ago. "I have four criminal-investigation detectives, one domestic-violence detective and one forensic detective," he said. "And to have 37 percent of our cases cleared by arrest is phenomenal — and better than the national average. So we're doing a lot with limited [amounts of] people and resources. They're doing a great job and working long hours, and they love it."
He said most of the robberies in Sully are "strong-armed type," meaning a weapon was used, and some involve drug deals gone bad. Kinkead further noted that police here also have good working relationships with those in other jurisdictions, and they help each other with their criminal cases.
The station commander, Capt. Dean Lay, said he'd be happy to attend Sully communities' homeowners association meetings and talk to residents about whatever they want. He then offered his 2017 strategic vision for the station.
"We want to strengthen positive relationships with the community we serve by advancing collaboration, partnerships, accountability and outreach," he said. "We also plan to promote public safety by reducing and preventing crime through proactive police service with absolute respect and fairness."