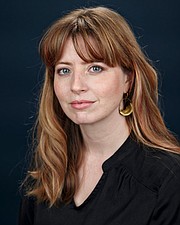 Assistant Professor Moira Denson has been recognized by the Council for Interior Design Accreditation (CIDA) for bringing a series of workshops to the Marymount University campus and into its curriculum. The "Universal Design-athons" let students and design professionals engage with individuals with varying disabilities in order to develop design solutions to help them.
Denson and a peer from Mount Ida College in Massachusetts, Stephanie McGoldrick, shared a merit award for the events they coordinated for participants ranging from first-year to graduate students. The professors were recognized with a $2,000 check as part of CIDA's 2016 Award of Excellence competition.
The two-day Universal Design-athons also featured talks from design experts, workshops to develop design solutions to everyday problems, and empathy exercises that allowed students to experience various simulated disabilities and limitations in order to experience the challenges encountered. Teams then created design proposals and prototypes that were judged by a panel of experts. Examples include a cell phone case that provides greater ease of use for someone with dexterity issues and a wearable device that detects water temperature for those with sensory limitations.