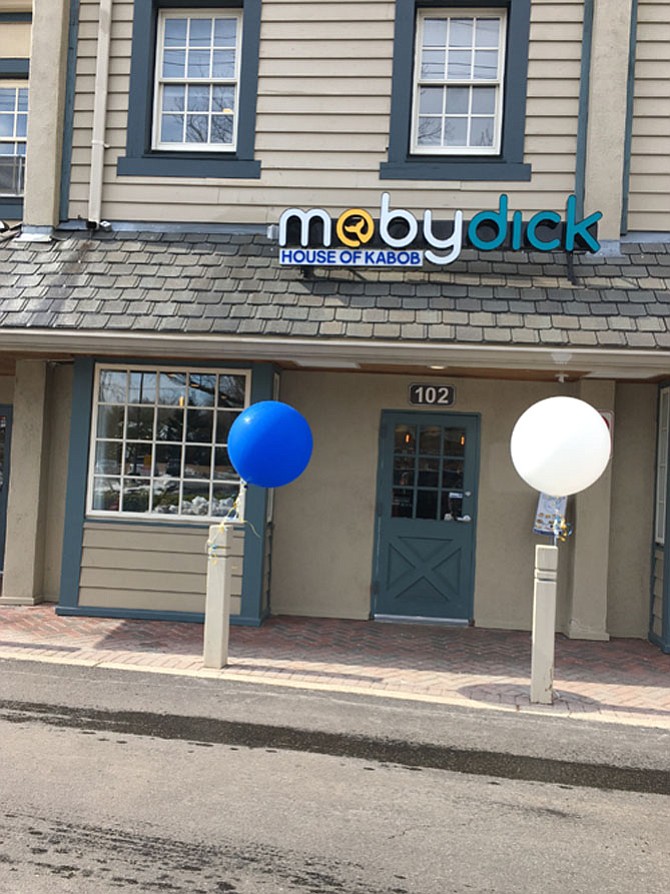 Less than a week after opening on March 15, Moby Dick House of Kabob in Potomac Village is doing a bustling business.
At lunchtime on Friday, tables filled and emptied and filled again, a pattern that continued through the afternoon. It's surprising, considering the restaurant did not have a grand opening.
"I think it's coming from our good reputation," manager Behzad Falahi said. "The food is great, everybody likes it."
Moby Dick's features 10 different kabob entrees, served with rice and or salad and pita bread with yogurt cucumber sauce. There are also sandwiches and appetizers on the menu and a selection of vegetarian choices.
Alex Momeni, director of Moby Dick, said he thinks the favorites are the Joojeh Kabob, which is made with chunks of chicken, or the Kubideh Kabob, with ground beef. Both are marinated in special house seasoning.
"They are the largest sellers," Momeni said.
Moby Dick is a local chain started in 1989 by Mike Daryoush, a Potomac resident, and a partner who is no longer active in the business. The original restaurant was Moby's Luncheonette and it struggled until the owners changed the menu to focus on Persian food like Daryoush enjoyed as a boy in Iran. The Potomac store is number 21 in the growing chain with restaurants in Maryland, D.C. or Virginia.
Of course, everyone wants to know how a kabob restaurant came to be called Moby Dick.
"If you find out, I'd like to know," said Sandra McMurtrie, of Bethesda.
She and her grandson A.J. Herndon, were having lunch together at the restaurant after grandparents' day at his school.
"We've been waiting for [Moby's] to open," she said. "My grandchildren knew about it."
A.J. seconded that.
"It is really, really tasty," he said.
McMurtrie wanted to note how nice the staff is at the restaurant. She said she brought the wrong purse and had no money of credit cards and they were very nice about letting her call home and give them her credit card information on the phone.
About the name, Momeni said the story is that the founders were trying to come up with a name and one was reading Herman Melville's "Moby Dick" and suggested that as a name. It stuck. He did say that they later added "House of Kabob" because many people thought they were a seafood carry out.
Falahi has been with Moby Dick's for almost nine years. He was manager of the Kentlands restaurant before coming to Potomac.
He too is from Iran and is proud to be sharing foods from his homeland.
"I like the company," he said. "We are presenting our culture and our food. I like the connection between the Iranian culture and the American culture."
Both Falahi and Momeni talked about the quality of the ingredients used at Moby Dick's. The kabobs are cooked over charcoal, not oil, and all meats are antibiotic free.
"We don't cut corners," Momeni said.
Eva Civan, a Potomac resident who works at the nearby Long and Foster Realty office, stopped by for lunch Friday.
"This is much needed," she said. "It's a good fit for people of international backgrounds."