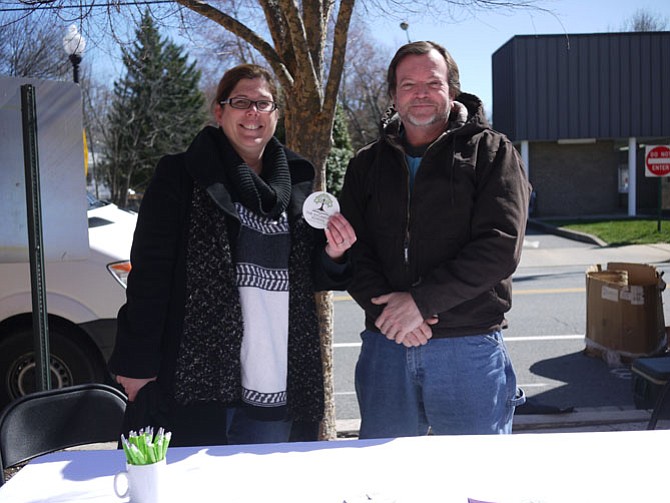 There's a new school in town. The Sycamore School, opening on July 1, at the Arlington Center, 4600 North Fairfax Drive, will be a non-religious affiliated private school.
Head of School and Founder Dr. Karyn Ewart emphasizes the "personalized experiential learning" aspect of her new school. She believes there is a demand for this school, based on a study she and colleagues performed. Parents are concerned about overcrowding, class size, teaching to the Standards of Learning (SOL) exams, and the fact some children get lost in the transition from elementary school to middle school.
The Sycamore School's mission is to provide a nurturing education; she wants to see children get a passion for learning, self-discovery, and their community. While academic development is number one on the school's agenda, social and emotional growth, and civic engagement, are right up there on the list of goals. Ewart says she wants to encourage inclusivity, and will probably opt for mixed age classes in the middle years, with small classes focusing on student-teacher collaboration. Ewart says the middle school years are a pivotal, predictive, and possibly life-altering stage of development. She wants to eliminate some of the excessive stress that comes from traditional and often overcrowded schools.
There is an overcrowding problem in Arlington County in the middle school years. According to Frank Bellavia, a public relations specialist at Arlington County Schools, there are currently 5,468 middle school students enrolled in Arlington. By 2018-19 that number will be at 6,035. By fall 2019, Superintendent of Schools Patrick Murphy plans for middle schools around the county to have 44 new trailers. APS says classrooms will remain at the same size despite the rise in numbers, with additional teachers and relocatables.
"What doesn't work is when a school is too good at accommodating kids."
— Dr. Karyn Ewart
Ewart says the problem with many middle schools, even private schools, is that they often take the approach that "one size fits all." In her school, some children will be going to competitive four year colleges, and some will find a different path to a career. The important thing is that they will all graduate with a sense of what they want to do, their strong points, and their passions. "There are too many kids living at home in their parents' basement," said Ewart, "who do not know what to do after college, or have not grown socially or personally as they progressed academically. We hope by providing an education that fits them better, and is practical, we can give them better life skills."
As a clinical psychologist, Ewart has a background in adolescent psychology, learning disorders, and counselling. She was head of school and clinical director at the Accotink Community Alternative Learning Center in Accotink, where she oversaw an Asperger's program and therapy services for learning disabled children, monitored individualized education plans, and started keeping track of best practices so that if she ever opened her own school, she would know what works. Her curriculum will encompass some of these elements, including some from Mindful Schools, Universal Design for Learning, Framework for 21st Century Learning, and Common Core State Standards.
"What doesn't work," Ewart said, "is when a school is too good at accommodating kids. There are so many accommodations in specialized schools, and then the kids go to college and suddenly they have to be their own self-advocate, and they don't know how to." Her goal is to infuse children with executive functioning schools in middle school, and then in high school, give them increasing amounts of responsibility to use those skills.
Heather Kirby, a therapist who has known Ewart for more than 15 years, said she is not surprised Ewart took on the challenge of starting her own school. She has never been one to shy away from hard work and a challenge, and she has always believed there had to be a better fit between mental health and education. In Ewart's school, the student who is not failing but is not flourishing either will be able to get an individualized education plan. Kirby thinks the school will be successful; she knows parents will breathe a sigh of relief when they meet Ewart, who is knowledgeable and driven, but gentle and compassionate at the same time. "Most knowledgeable and driven people aren't gentle and compassionate, " Kirby said. "But Ewart, a mother herself, is liked by kids and parents, and at the same time, is organized, detail-oriented, and won't overlook a problem."
The Sycamore School will start out at just 6-8th grades, and then move to 6-12th. The school aims to have a cross section of students, some from parochial schools, some from public, and about 50/50 girls to boys. There is an application process, and the school hopes to be able to attract students from all income levels. They have accepted 4-5 students already, with a few more in the pipeline, and have a goal of 20 students when the school opens in September. Eventually, they hope to have 30 students in each grade, with a total of just over 200 students. Financial aid based on need will be available.
Ewart is excited about the school's self-paced learning, remediation in areas where it's needed, civic engagement, and learning outside the classroom. "If it's a science course on streams," Ewart said, "it will take place along Four Mile Run." "Middle school students can be moody and can disengage," Ewart said. "We want to be able to recognize that, and then get them re engaged." Ewart says there is a market for the urban school model where students go into the community, and she plans, for instance, to have students go into the Jefferson Retirement Community around the corner and either read to the elders, or help them with computer literacy, or find out what the needs are and what will generate excitement on both sides. "Too often," she said, "community service is just a box that gets checked, not a genuine engagement."
Ewart said The Sycamore School will have a $20,000 base tuition per year and $1,000 for activities and technology.
Sycamore School is next to the Metro and easily accessible. Because of this, Ewart plans to reach out to local businesses in Arlington, not only to help her fund the school, which right now is drawing on Ewart's personal investment, but to be a partner in education. When the children are studying finance, they will engage with a local bank or accountant. She hopes to offer structured internships to her students so they can learn by doing, and prepare for the real world. "This is very much a 21st century learning model," she said. "We will also offer foreign languages according to parent and student demand, recognizing that learning a language occurs best in an immersion."
Dr. Brooke Carroll, a former head of the Seneca School, is on the board of directors of the Sycamore School. "This school is the way to do schooling," she said. "It's learning in the real world instead of the classroom." Carroll said she was introduced to Ewart by a colleague and was immediately impressed with her philosophy and the way she was going about setting up the new school.
"My school is not a threat to APS," Ewart said, "but we can make some parents happy that aren't happy now, and that would be good for APS too."
Ewart said she believes the plans of the new U.S. Education Secretary Betsy DeVos to give parents a choice about schools, could work if DeVos follows the Florida program, which she calls very interesting. Florida's scholarship tax credit program allows the money to bypass state coffers. Corporations or individuals offset state tax liability by donating to a nonprofit scholarship fund. The money from this fund is then given to families to pay for tuition at private schools.
To learn more about The Sycamore School, and its summer camp, see www.thesycamoreschoolva.org, or attend info sessions on April 18 from 6-8 p.m., and April 23 from 2-4 p.m. at the Falls Church Presbyterian Church, 225 East Broad Street, Falls Church. Prospective students can participate in three consecutive half hour "pop up" classrooms while adults can observe or talk to staff about the curriculum.