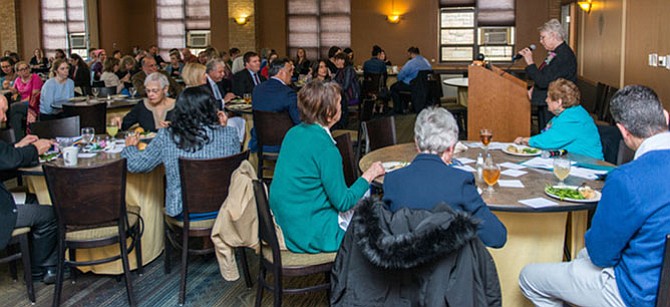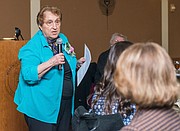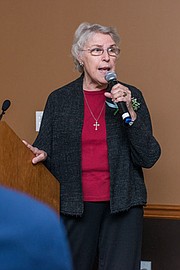 Dialogue is mainly listening with the goal of understanding and generating new ideas to make the world a better place, Sister Kathleen Kanet told an audience at Marymount University.

"Every one of us is different," Kanet said. "I believe that God created us unique and wonderful and blessed, and we have within us the thing to make peace and do justice. But we have to believe that ourselves."
Kanet and Sister Virginia Dorgan of the Religious of the Sacred Heart of Mary (RSHM) were the keynote speakers at Marymount's Fifth Annual Founders' Day, which honors the Catholic university's founding order. It was a homecoming for both. Kane's first mission was an assignment at Marymount in 1963. Dorgan is an Arlington native who attended Marymount High School, housed at the time on the Marymount University campus.
For many years they ran The Network for Peace through Dialogue in New York City, a non-profit organization they founded that was dedicated to connecting grassroots communities, both local and global, in order to identify and research common issues and solutions in the areas of making peace and promoting just action. It ended formal operations on Dec. 31.
Dorgan touched on the RSHM tradition of education and addressing social issues. Today, it deals with issues ranging from immigration to human trafficking.
The sisters gave the crowd gathered in Marymount's private dining room a handout with the following dialogue practices:
Listen for understanding, with equal respect for each person.

Speak from your heart, as well as from your mind, when you are moved to make a contribution from your own experience.

Suspend judgment. Let go of any need to be right or have a right answer. Try to suspend certainty.

Hold space for differences. Embrace all points of view. Change the "buts" to "and." Remain open to all outcomes.

Slow down. Let there be spaces and silence in the dialogue.
Founders Week activities ran from Feb. 20 to Feb. 24 and included a "Food for the Soul" talk by President Shank on Monday, a discussion on "The Five Languages of Love" and an opening reception for "Unaccompanied," a photo exhibition by Oliver Contreras.