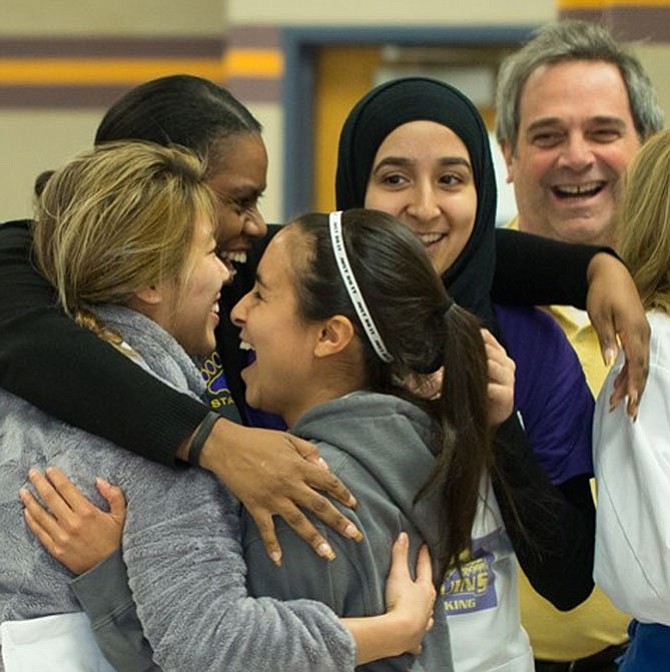 The Lake Braddock Secondary School team's chicken shawarma took first place at Real Food for Kids' fifth annual Culinary Challenge and Wellness Expo on March 11 at Lake Braddock Secondary School in Burke. There were 15 teams competing from 10 Fairfax County Public Schools, including the three culinary academies at Edison, Chantilly, and Marshall High Schools, for a prized spot on the FCPS cafeteria menu.
"This event highlights the importance we place on our students to help us put delicious, high-quality food on our school menus," FCPS Food and Nutrition Services Director Rodney Taylor said.
The winners, Diana Camcho, Aysha Waraich and Kaitlyn Sam, created the dish incorporating elements that they considered most appealing to their classmates. Judges scored their entry 473 out of a possible 500 points. Dr. Becky Bays, a judge and Loudoun County Public School's Food and Nutrition Services director, asked for their chicken spice blend recipe after declaring "ooh that's good!"
In addition to watching the cooking competition, the audience of nearly 350 participated in a variety of expert-led workshops, including quick and healthful family meals; plant-based diets; how to eat "clean," and food writing and photography. Among the presenters were Six O'Clock Scramble's Aviva Goldfarb, Washington Post Deputy Food Editor Bonnie S. Benwick, Susan Soorenko of Moorenkos Ice Cream; Renee Comet of Rene Comet Photography and Dr. Nimali Fernando, a.k.a. Dr. Yum, of the Dr. Yum Project.
"The Expo gives attendees a taste of the kinds of initiatives that Real Food for Kids has been involved in over the past six years," said JoAnne Hammermaster, the non-profit's executive director. "We organize fun and approachable ways to involve our community in nutrition and wellness education and we work collaboratively and creatively with our school partners to help improve the food we serve our students."