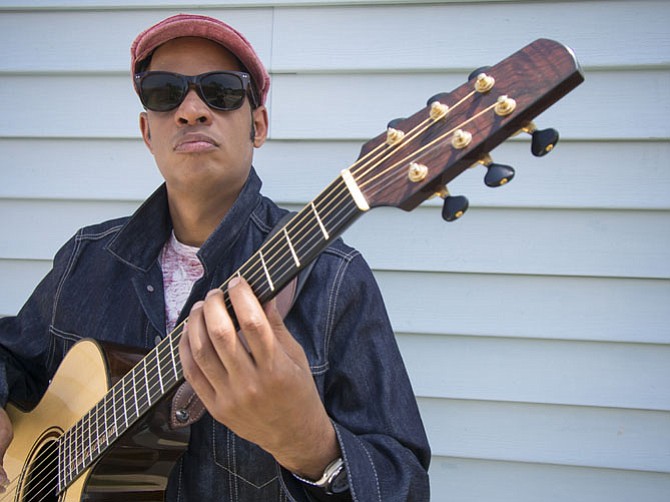 Reston Community Center will present singer/songwriter/multi-instrumentalist Raul Midón for a one-night performance on March 29 at the CenterStage. The Reston audience is in for a treat as his highly anticipated ninth album, "Bad Ass and Blind," debuts on March 24 — the same week as his Reston concert. Midón's new release promises to be a smash hit and our CenterStage performance will be among his first for the new music.
South Lakes High School and Langston Hughes Middle School will host this gifted artist on Tuesday, March 28 as part of RCC's Professional Touring Artist Series Artist-in-Residency program.
Blind at birth, Raul Midón has been creatively shattering boundaries with jazz, soul and pop signatures for the last decade.
"We selected Raul Midón as our artist-in-residence this season because he brings a singular perspective and style to his music and a positive message of overcoming adversity," said Paul Douglas Michnewicz, RCC's Arts and Events Director. "Our goal is to give Reston students the opportunity to experience the work and background of a musical genius as well as the ability to see multiple points of view. Raul's cultural frame of reference and his holistic response to his blindness help students connect and fosters respect for our differences."
The CenterStage is located at Reston Community Center Hunters Woods, 2310 Colts Neck Road, Reston. Tickets for the March 29 performance are $15 Reston/$20 Non-Reston. In-school residencies are not open to the public.
Visit www.restoncommunitycenter.com. Tickets are available for purchase online (until 1 hour before performance) or in person at the Box Office on Tuesday, Wednesday, Thursday: 4-9p.m., Saturday: 1-5 p.m., and two hours prior to curtain time.
To find the programs or events that are right for you, visit www.restoncommunitycenter.com or call 703-476-4500.