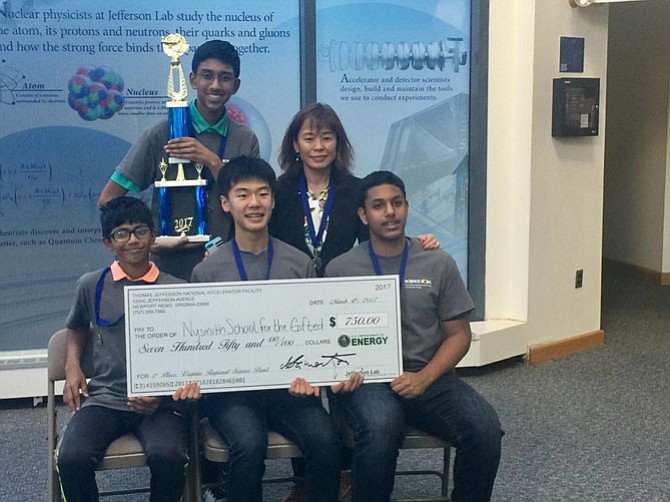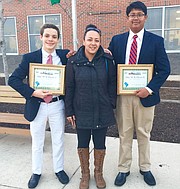 A diverse group of Nysmith School for the Gifted students and teams has recently recorded a number of academic accomplishments. Here are the details having to do with each of the competitions:
Nysmith's Science Bowl team won last weekend's Virginia State Championship to advance to the National Finals April 27-May 1 at the National 4-H Youth Conference Center outside Washington, D.C. Created and presented by the U.S. Department of Energy, the nationwide event tests students' knowledge in a range of science disciplines including biology, chemistry, Earth science, physics, energy and math.
Captain Kaien Yang (from Chantilly), Aneesh Edara (McLean), Anuraag Kaashyap (Herndon) and Yuvy Sethi (Great Falls).
Nysmith eighth grader Vance Kreider of Herndon participated in the "You Be The Chemist" (YBTC) local event held last weekend at Marymount University in Arlington and advanced to compete in the YBTC State Challenge on April 29 in Richmond. The competition encourages students in grades 5-8 to explore chemistry concepts and their real world applications. Alisha Luthra, a sixth grader from McLean, also represented Nysmith at the local contest.
Several Nysmith debaters had impressive showings in this past weekend's March DC Urban Debate League (DCUDL) tournament. Two eighth graders--Alex Misiaszek of Ashburn and Vikram Bala from Great Falls—won the varsity level competition. Seventh graders Sarang Arun (Fairfax) and McKenzie Hiek (Great Falls) recorded a second place finish in that same division. The debate topic was "Resolved: The United States should no longer pressure Israel to work toward a two-state solution to the Mideast situation."