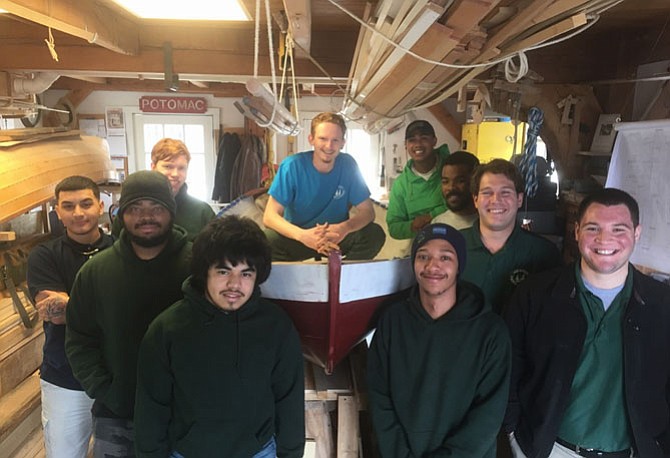 For nine months, Jay Helinksi worked as an apprentice with the Alexandria Seaport Foundation. But in order to graduate from the nationally recognized program known for "building boats and building lives," he needed to complete a final project.
"It is a thrill to see young people like Jay navigate their way through the apprentice program."
— Kathy Seifert, ASF vice president of development
As Helinksi worked his way through the curriculum, he decided to approach ASF staff with what turned out to be an unusual request: he asked permission to build a boat for his final project. Despite the program's focus on boat building, most apprentices lack the desire and skills to complete a project of this magnitude.
But Helinksi had researched the boat he wanted to build, designed a budget and came up with a plan for making that budget work. Without hesitation, Helinksi was given the green light by ASF staff.
"It is a thrill to see young people like Jay navigate their way through the apprentice program," said Kathy Seifert, vice president of development for the foundation. "Jay is a true testament of the good work being done at ASF through adult mentoring, project-based learning and the craft of wooden boat building."


The ASF boat building apprenticeship program is a workforce readiness program which helps at-risk youth between the ages of 17-22 acquire the career, social and self-esteem to become productive, responsible adults. As with most applicants to the program, Helinksi came to ASF during a difficult time in his life.
"Jay could have either allowed the challenges of his situation to overcome him or determine a way to move beyond them," Seifert added.

As soon as Helinksi entered the program, it was apparent to ASF staff and volunteers that he was committed to gaining the life and career skills needed to build a successful future. According to staff, not only did Helinksi begin to thrive in a very short period of time, but he became an inspiration to other apprentices in the program, providing them the encouragement they needed to push through each day.
On Feb. 28, Helinksi's final project became a reality. Family, friends, ASF board members, staff and volunteers gathered at the Alexandria waterfront to watch as Helinksi launched his handcrafted "shellback dinghy" and rowed it around the edge of the Potomac River.
Now that he has graduated, Helinksi is also ready to launch himself back into the world. He is planning to re-apply to art school and pursue a career in engineering and design.
As graduate apprentice and now full time ASF staff member Jimmy Gottfried said, "If you're ever wondering what goes on in that floating timber frame on Old Town's waterfront, I can tell you it's nothing short of lives being forever changed."
For more information on the Alexandria Seaport Foundation, visit www.alexandriaseaport.org.