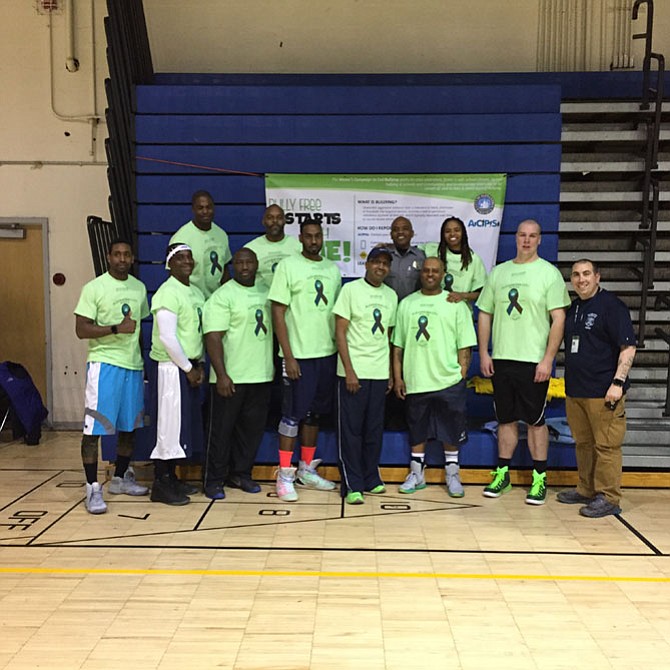 Alexandria — People of all walks of life ate together, prayed together and played together on March 11 at George Washington Middle School. The first annual Community & Police event was part of a jurisdiction-wide Unity Basketball Tournament and brunch during Truth and Reconciliation Month.
Alexandria police and return citizens, or those with a judicial sentence, faced off first in two games of basketball with their respective counterparts from Prince George's County. A third game between Homeland Security Police and D.C. Firefighters followed.
Fans were into it. "I see a turnover," shouted one spectator. "Keep 'em in line PG," yelled another.
Everyone played with intensity — especially the young return citizens who for the majority of their game were neck-and-neck until the very last ticking-away second. That's when #11 Walter Smith threw a long shot for a 62-60 Alexandria victory.
Actually, the first annual Community & Police event was a win-win for everyone. "We see major payback dividends," said Nicholas Ruggiero of the Alexandria Community Policing Unit. Events like these break down barriers. Seeing officers in civilian clothes, youth are more apt to report crimes, he said.
"Stigmas exist on both sides. This is an attempt to help relations," said Jack Kemp Foundation outreach leader Ronald Moten, who conceived of the Community & Police event. "We are turning people's lives around."
Delonta Badie, a player on the Return Citizens team, agreed. "It's good to bring people together." Badie now works in Alexandria.
Many supported Saturday's event, including the Alexandria Department of Recreation, Parks and Cultural Activities, Councilman Willie F. Bailey, Sr., and Pastor Lou G. Whiting of My Father's House Christian Church International, who led a prayer circle. Miles Rawls of the Goodman League made play-by-play commentary.
"This event is the culmination of humanity, said McArthur Myers, Alexandria community activist. "The police and return citizens are coming together for one accord. They took different paths but came together to express commonalities as human beings, irrespective of mistakes and vocations."
For more on Truth and Reconciliation events, including an All Star game in Prince George's County on April 1, semi-finals on April 8 and the final championship (date be determined), contact Ronald Moten at 202-848-4394 or Info@Jackkempfoundation.org.