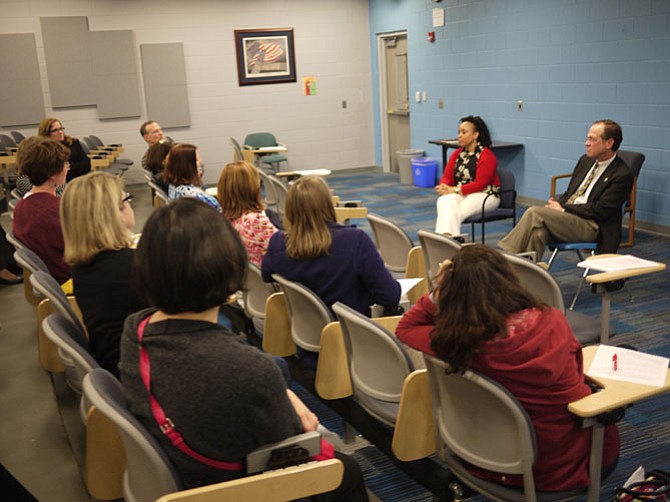 Arlington Public Schools Superintendent Patrick Murphy and Dr. Kristi Murphy, assistant superintendent of human resources for Arlington Public Schools, met with parents at Yorktown High School to review the selection process, on the evening of March 8. Dr. Ray Pasi, who has been principal at Yorktown for 20 years, announced his retirement on Feb. 16.
About 20 parents were told APS is looking to have parents on the selection panel for the new principal, and that a survey asking parents for input on the attributes of the principal needed at Yorktown was going to be important to the selection process.
Both Murphys noted this is not the only vacant principal position in the area: T.C. Williams High and Thomas Jefferson High School for Science and Technology will have open principal positions. The superintendent noted, however, that each school is different and would attract from different applicant pools.
Parents asked if there would be a probationary period for the new principal (yes), and how principals are evaluated (the superintendent meets with each principal three times a year). The superintendent said he was looking for someone with previous high school experience, although that could come in the form of an assistant principal, a teacher, or a middle school principal. The important thing for a high school principal, he said, is credibility.

To serve on the panel, contact the local PTA office for Yorktown, and for the survey, see http://survey.k12insight.com/survey.asp.