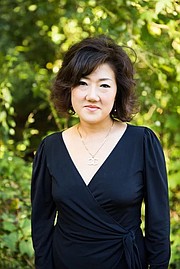 Pipeline Playwrights will present its next reading of the world premiere play, "The Men My Mother Loved," by Soo-Jin Lee on Monday, March 20, at 7:30 p.m. at MetroStage in Alexandria. In the play, a vacation to Korea turns a mother-daughter relationship into an exploration of why it's worth reuniting with ex-boyfriends. Through family, food, and former lovers, Jang-Mi, a 54-year-old Korean immigrant woman, drags her Korean American daughter, Sun Young, through life's most important lessons — who to love, how to love, who to kiss, and who to marry.
"This is a tale about your average immigrant mother who wants to teach her Korean-American daughter life lessons about love and marriage," said playwright Soo-Jin Lee, who spent eight years working on the play. "It is culturally specific but my hope as a playwright is to expose and reinforce to those already familiar with this, that even though we may speak different languages and were possibly raised in different cultures, human relationships are eerily the same."
She wanted to show how one mother uses men as a vehicle to admire and possibly even worship herself. "Because most of our present world is still a patriarchal society, women are stereotypically seen as the weaker half, the nurturers, or the martyrs," she said. As a 54-year-old, the mother in the story is empowered in the affairs of love and relationships, she said. "She is trying to pass this baton of fierceness and fearlessness to love to her daughter, but how willing is the daughter to listen and learn from her mother's past?"
Lee said she wants people to walk away from the play learning something or feeling something new for the Korean immigrant/Korean American experience. "Some audience members may know the culture intimately because they were raised in it. Others may hardly know anything about it," she said.
The reading will be directed by Flordelino Lagundino and will feature these Asian-American actors: Tuyet Pham, Regina Aquino Smith, Jennifer Knight, Stan Kang, Steve Lee, Al Twanmo, and Amy Hard.
Lagundino said he's hoping that audiences go away having laughed, and nodded in agreement that they see something about themselves in the play. "This is whether you come from an Asian-American background or from whatever ethnicity you identify as. Soo-Jin's play is a story about family and love and how we find ourselves when we are put in unfamiliar situations. It is about self-discovery, and the importance of following your own path," he said.
Kang plays Kyung Tae, the mayor of Koje Island and one of the men that Jang Mi loved. "She is the one who got away and he still loves her despite all of the time distance between them," he said. One of his challenges was to try to make Kyung Tae remain a sympathetic character despite his infidelity to his wife, he added.
Smith plays the role of Jang Mi, who is both a matriarch and a young woman as the story is told from different places in time through her life. "She's a life-force that is full of love yet still longing for something more and has been since the day she was born," she said.
"The biggest challenge is being true to the character regardless of what age she is in any given scene," she said. "The heart of Jang Min is always the same, but her objectives and understanding of the world around her changes from scene to scene. So, the key is finding that heart and letting it drive her actions."
Hard plays the role of Sun Young, the daughter who gets the opportunity to travel with mom back to Korea for a mix of fun and obligation. "She is a young Korean-American woman dealing with her own questions regarding tradition, expectations, loyalty, privacy, culture — and how they shape (intentionally, naturally, accidentally) her relationships," she said.
She said the show will have Asian-Americans connecting on many levels — "what we share, what we disagree with, what makes us so different," she said. "I hope it makes people question, laugh, talk to family in a deeper way — or respect why they cannot, and gasp at Soo-Jin's vulnerable and raw honesty in sharing her story."
The first reading of "The Men My Mother Loved" by Soo-Jin Lee will be held on Monday, March 20, at 7:30 p.m. at MetroStage, 1201 North Royal St., Alexandria. After the reading, enjoy Korean food and refreshments and informal conversation with the playwright and actors. For more details, visit https://www.facebook.com/events/247702042346106/.