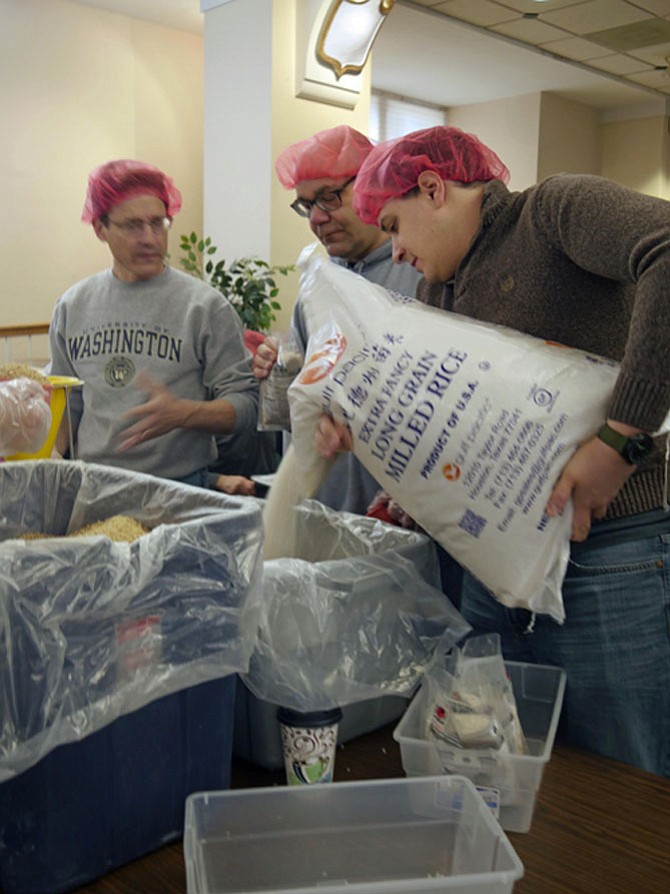 Arlington — A loud gong reverberates throughout the room at Clarendon United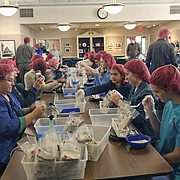 Methodist Church (CUMC). Jo Gavtier, who works for Stop Hunger Now, announces that every time 1,000 meals have been completed he will ring the gong. A cheer goes up.
Seventy-five volunteers have gathered at CUMC on Filmore Street on March 11 to package 20,000 meals for Stop Hunger Now. The Rev. Tracy McNeil-WInes, senior pastor of CUMC, says a shift arrived early to unload the rice, bags, equipment, hair nets and gong provided by Stop Hunger Now. Two additional shifts from 10 a.m.- noon and from noon-2 p.m. would be rotating to assemble the meals.
The church is well organized with volunteers pouring, funneling, weighing and packaging meals. On one side of the room volunteers pour 50-pound bags of rice into buckets. Six- year-old Hayden Hershey says his job is to deliver the packages of "vegetable stuff to the table over there." His side of the room is funneling rice, soy, dried vegetables and other ingredients into each plastic bag in assembly-line fashion.
Hayden is there with his mom and dad working to "help people who don't have food." He delivers his plastic box of meal packages to the end of the table on the other side of the room that has just burst into happy birthday for Dorothy Grotos "who is 15 now." She says she is there with her mother and two sisters. She has volunteered once before and "I feel good after I have helped package food for people who need it."
Volunteers crowd both sides of the long table with one side for weighing the packages to between 389-394 grams and the other side of the table vacuum-sealing the packages. Another small helper is running back and forth transferring 4-5 completed packages to a table in the front of the room where 36 packages are loaded into a cardboard box ready to go. Music is playing in the background, and the group chants together "touching hands … yah yah yah … so good, so good." One more bag down the line.
Stop Hunger Now, a volunteer-based international hunger relief organization, coordinates the distribution of food and other life-saving aid around the world. It organizes events around the country bringing the food and equipment, and the participating organization provides the space and raises the funding for the meals at 29 cents each.
According to Gavtier, the food will be stored in a warehouse in Ashburn until enough has accumulated for delivery to a place in the world most in need of food.
McNeil-Wines says this is the fourth year CUMC has participated in Stop Hunger Now and that the food packaged today will be sent to Haiti.