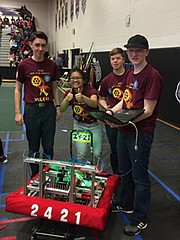 The Springfield/Burke FIRST Robotics Competition Team #2421 RTR Team Robotics, came in 2nd place at their first regional event of the 2017 season this past weekend. Their robot "VULCAN" out competed 33 other teams to rack up high scores in this year's difficult "SteamWorks" field game. Participating in the ultimate "Sport for the Mind" required the 25 high school members to raise funds, design a team "brand," build and program a 120-pound industrial-sized robot all within an intense six-week time limit. The team calls it "the hardest fun you'll ever have."

The non-profit community-based team includes eight West Springfield High School students, 16 Lake Braddock Secondary School students and one homeschooler. It is sponsored by engineer mentors and parent volunteers and operates out of loaned retail space at Springfield Plaza. Their budget was approximately $12,000 and was made possible by Springfield Plaza, LLC, Rapport Companies, Boeing, Federal Acquisition Strategies, BAE Systems, and the Air Force Officer's Spouses Club of Greater Washington D.C., as well as a national grant from NASA.
2421 RTR Team Robotics's next event will be a Chesapeake Regional being held 25-26 March at South River High School in Edgewater, Md. Anyone interested is invited to attend the free competition. Schedule can be found at www.firstchesapeake.org/index.php. Students who want to learn more about 2421 RTR Team Robotics should email FIRST2421@gmail.com and get ready for next year's season starting in November 2017.