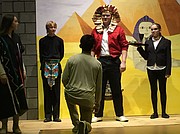 What do the Bible, the Torah, the Koran, the Book of Mormon, and the West End/Broadway writing team of Andrew Lloyd Webber and Tim Rice have in common? A young dreamer named Joseph, and his coat that served as the object of affection, jealousy, and redemption.
On March 9-12, Burke Presbyterian Church continues its 21st consecutive year of presenting a free musical to the community, as "Joseph and the Amazing Technicolor Dreamcoat" returns to the BPC "stage" after making its last appearance in 2009. A cast of 35 talented BPC youth (7th-12th grades), a live band, and a hard-working behind-the-scenes crew will present the famous (and very child-friendly) show, based on the life of Jacob's favorite son.
With music by Webber (the composer of Cats, The Phantom of the Opera, and Sunset Boulevard), and lyrics by Rice (the lyricist of The Lion King, Aida, Aladdin, Beauty and the Beast, and Chess), Joseph was the first of their three renowned musicals (in addition to "Jesus Christ Superstar" and "Evita").
Nick Yoon (a senior at Thomas Jefferson HS) portrays Joseph, a 17-year-old blessed with prophetic dreams. Sold into slavery by his jealous brothers, he is taken to Egypt, and endures a series of adventures in which his spirit and humanity are continually challenged. Set to a cornucopia of musical styles, from country-western and calypso to rock 'n' roll, this Old Testament tale emerges both timely and timeless.
Yoon, who also serves as one of the student choreographers, encourages all ages to attend: "This musical is a great, family-friendly show with lots of fun music and characters! If you want to have a good time and learn a valuable lesson about forgiveness, then come on over and see the show."
The cast has worked collaboratively with BPC adult leaders, and added unique slapstick and vaudeville touches to the show.
The show is "sold out," but there are always people who turn in tickets the day of the performances, so if you send a request to Musical-Tickets@BurkePresChurch.org to get on the wait list, and show up at least 15 minutes before show time, there has historically been a 99 percent chance you can get a seat. March 9 (opening night) is the best chance for that. There is no charge for tickets, but free-will donations will be happily accepted at the end of each of the performances. Any donations support BPC Youth Mission Programs.
Besides Yoon, there are several seniors in their final BPC show – from Lake Braddock Secondary School: Jordan Koontz (Narrator), Josh Lee (Pharaoh), and Garrett Niles (Potiphar, Goat); from Robinson Secondary School: Colin Diggs (Judah), Maddie Dozier (Simeon), Christian Ham (Ishmaelite), Elizabeth Wickham (Dinah), and Sophia Zmorzenski (Tech Crew); and from West Springfield High School: Meagan Espinoza (Narrator, Baker, choreographer) and Andrew Giddings (Asher).
BPC has two married co-pastors, and one of them, Rev. Jarrett McLaughlin, summed up the show as "a fun and faith-filled interpretation of an important Biblical story."
From March 9-15, Hopsfrog Grille and Panisa Thai Dining in Burke, TaeJi Sushi in Fairfax Station, and Asian Grill in West Springfield are also partnering with BPC for "dinner and a show," in which the four restaurants give back 10-20 percent of their proceeds to BPC youth during the four show days, plus three days after the show ends.
Learn more at www.burkepreschurch.org/node/453.