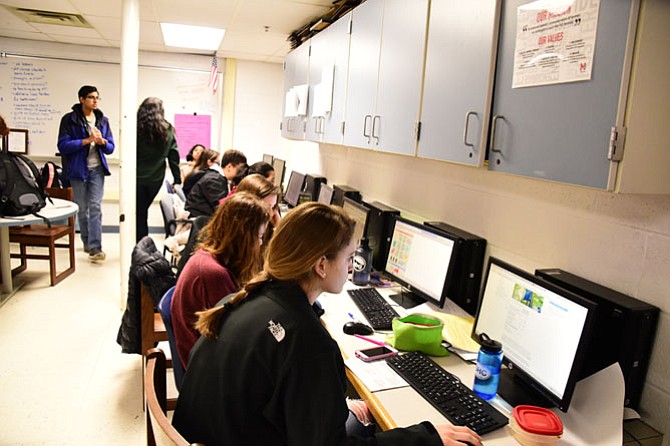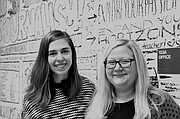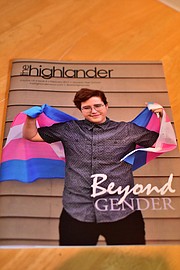 Melanie Pincus and her teacher and adviser, Lindsay Benedict sit in "The Highlander" newsmagazine room at McLean High school. Every semester Pincus, a senior and second-year editor of the magazine spends a few late evenings a month with Benedict finalizing the articles, photos, and advertisements for the magazine.
"We are collaborating on the magazine, and Melanie is in a leadership role to her peers. As an editor she can look ahead to see the future and the bigger picture," said Benedict, 33, journalism teacher at McLean High.
1,700 copies of the magazine come out seven times a year. The Highlander is completely self-funded by advertising with a student business manager, who this year is a freshman.
Recently, Pincus's work and investigative reporting won her an award for Virginia Journalist of the Year. The contest is hosted by the Virginia Association of Journalism Teachers and Advisers (VAJTA).
It was a competition for multimedia journalism, but Benedict said that Melanie's writing ability is what set her apart. "First Place in newswriting stands out to me as showing good journalism" said Benedict.
According to her teacher, Pincus has other abilities that set her attitude towards journalism apart from other students. "She was always the student who was willing to go out and get the story," said Benedict. "If there was a protest in McLean, Melanie said I'm going to go cover it."
Pincus went out and got pictures and interviews of the protest and she won an award for her reporting. She also did an article on teachers' salaries that was well received.
Other Fairfax County Public School students also won awards. Teagan Foti of Annandale High School won second place honors in the statewide competition and Nina Raneses of West Potomac High School won third place.
In addition, Pincus was an intern for the Connection Newspapers last summer, and recalls writing stories on local events and town hall meetings.
"I got to do fact checking and reporting when I worked at the Connection Newspapers," she said.
The latest issue of "The Highlander" has a photo titled "Beyond Gender," and is the cover story of February's issue.
"Gender identity is really relevant right now," she said.
She enjoys getting to know the stories of her fellow students, and has taken full advantage of the journalism education that McLean High school has provided her with.
Pincus said that working on "The Highlander" magazine has shaped her high school experience. "The high school administration has always been supportive of us and the student body is interested," she added.
Reflecting on her award, Pincus said, "I was really excited. I felt strange, but I guess I have been doing something right!"