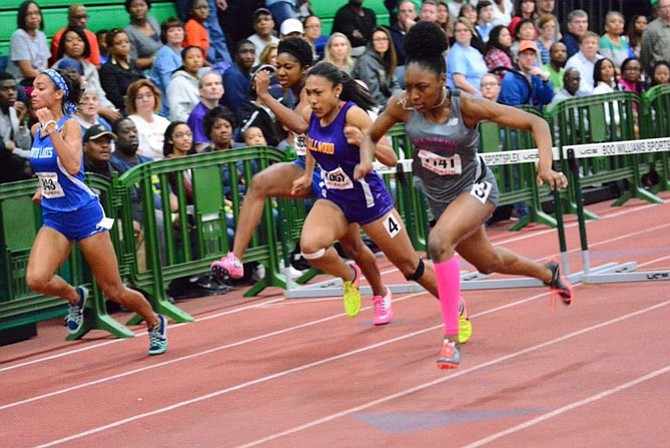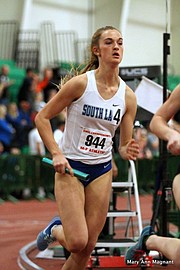 South Lakes High School seniors Devyn Jones, Timiebi Ogobri and Peter Sepulveda closed out their four-year indoor track and field careers by earning All-State honors at the 6A State Championship February 24-25, 2017.
The SLHS girls team finished seventh while the boys were 21st out of the 52 schools with indoor track and field teams completing at the Boo Williams Sportsplex in Hampton.
Jones teamed with freshman Mary Gregory, sophomore Sophie Halkett and junior Aly Rayle for sixth place in the 4x400 meter relay (4:05.74). She also finished ninth in the 55-meter hurdles with a 8.31, breaking her own school record of 8.34 that she set at the 6A North Region Championship earlier this month. Jones also competed in the 300 meter dash (42.02, 16th).
Another school record was set by Halkett, Rayle, sophomore Jordan Anderson and junior Olivia Beckner in the 4x800 meter relay. Their second-place time of 9:20.20 eclipsed the previous mark of 9:30.27 set by Halkett, Beckner, Golden Kumi-Darfour and Sarah Wolfe at last year's state championship.
In individual events, Beckner finished second in the 1,600 meter run (5:02.25), Gregory was fifth (1:16.59) and Rayle, eighth (1:18.28) in the 500 meter dash and Halkett ran 3:03.81 for eighth in the 1,000 meter run.
For the SLHS boys team, Ogobri, senior Don'ta Whitley, junior Jack Eggeman and sophomore Stevie Jones ran a 1:32.94 in the 4x200 meter relay for sixth place. Ogobri finished seventh in the 55 meter dash with a 6.52. He ran a personal best of 6.48 in the preliminaries.
Sepulveda, senior Jack Watkins and juniors Sean Casey and Alex Loukili were fourth in the 4x800 meter relay (8:11.12). Loukili finished 9th in the 1,000 meter run (2:40.47) and Whitley was 11th in the 500 (1:11.13).
Junior Ronak Cuthill contributed to the team's success with a 10th place finish in the shot put (47-04.75).