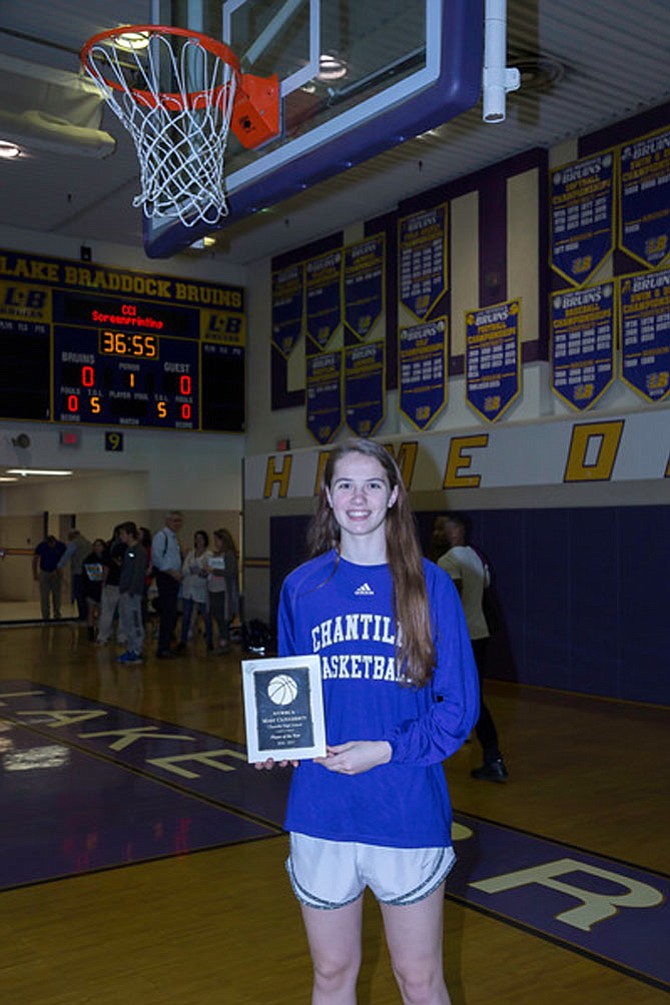 Mary Clougherty, a senior on the varsity basketball team at Chantilly High School, was awarded Player of the Year by the Northern Virginia Women's Basketball Coaches Association.
Coaches award one player from the 5A and 6A conferences as the Player of the Year. Clougherty also was selected as the VHSL 6A North Region first team All Region, an award which is given by a panel of 16 coaches whose teams comprised the top four seeds in the regional tournament.

Clougherty, also earned Conference 5 Player of the Year. In her four years playing varsity basketball, Clougherty scored 973 points. As a senior, Clougherty averaged 14.6 ppg, 8 rebounds, 2 assists and 2 steals per game and shot over 70 percent from the free throw line. Clougherty will attend Lehigh University in Bethlehem, Penn. where she will continue to play basketball.
Chantilly Coach Kurt Spormann said, "Mary is Mary. She is an extremely humble individual that enjoys playing and competing at basketball. Hates to lose, loves to play. She is always grounded with her friends, coaches and teammates. But on the court you can see her intensity and desire to have her team be the best they can be."