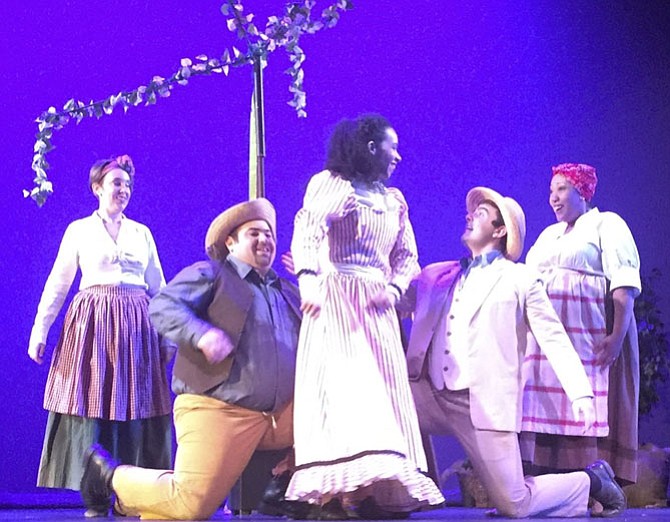 A cast of Opera NOVA singers and dancers held the rapt attention of hundreds of school children Feb. 28-March 4 with singing, dancing and bright costumes for the first-ever 45-minute performance of Scott Joplin's opera "Treemonisha."
"We felt it was important to expose our students to various kinds of arts and music, including opera," said Tracey Houston, a teacher at Drew Elementary School in Arlington.
What was the opera about? "There were bad people and they were all punished but in the end everyone was happy," said one small child. That about sums up the story of 18-year-old Treemonisha, who is kidnaped by people who practice magic in a community of former slaves. But Treemonisha, who has been educated, talks the townspeople into forgiving them. The importance of education is a theme of the opera, written by the ragtime king in 1910, but largely overlooked since then. Artistic Director Jose Sacin took the score and shortened it, with hopes that other opera companies will use it as well.
Children loved screaming when the practitioners of magic ran through the aisles carrying huge brightly colored masks to ward off evil spirits. "I liked it when the guy kicked the bad guy with his leg," said one young spectator. Most of the students were told about the story in advance by teachers who received study guides from Opera NOVA and its president, Miriam Miller.
Pupils, some as young as 4, were brought in yellow school buses from the District of Columbia and Northern Virginia to the production at Thomas Jefferson Middle School Theater, complete with orchestra pit and 11 musicians. Sacin opened the show by having the musicians come on stage to demonstrate and play each individual instrument, quizzing the children about which one it was.
An open dance sequence with richly colored lighting pantomimed the story before the actors took stage. The opera, directed by Roger Riggle, was put on by professional singers and actors recruited by Riggle, Sacin and others. Treemonisha was played by Jocelyn Hunt. Other key players were Sam Keeler, Elise Jenkins, Matthew Woorman, Alex Albuquerque, Dwight Smith and Angelica Brooks. Stage manager was Bryan Boyd, and a barbershop-style quartet was led by George Hobart.
Opera NOVA, previously known as the Opera Guild of Northern Virginia, puts on musical productions to expose children, seniors and minorities to opera and other music that is often neglected.