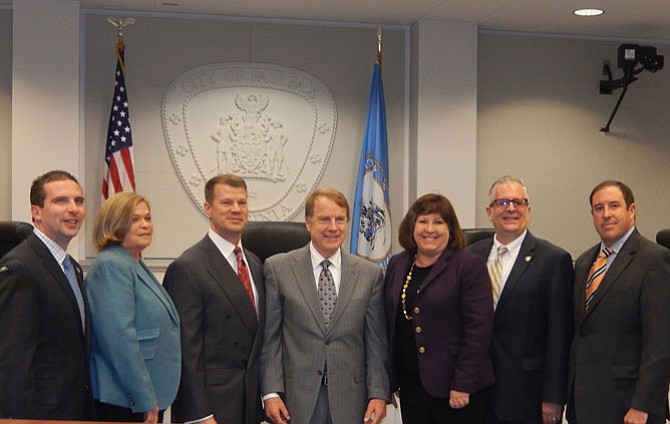 Although it's lately seemed as if, every few months, there's a new face on the Fairfax City Council dais, the new one appearing there Tuesday night belonged to someone familiar. Former City Councilman Dan Drummond rejoined the Council temporarily to fill the seat vacated three weeks ago by former Councilman David Meyer after he became mayor in a special election.
Drummond served three terms on the council, from June 2008 to July 2014. He was also a member of the city's Economic Development Authority and Parks and Recreation Advisory Board. And he currently serves on the boards of directors for Spotlight on the Arts and the Virginia Council on Economic Education.
Professionally, he's the communications director for the Certified Financial Planner Board of Standards. And he and his wife Kerry live in Fairfax's Green Acres community with their three children, Sadie, Patrick and Liam.
At the outset of the Feb. 28 City Council meeting, Councilwoman Janice Miller made a motion to appoint Drummond to the council effective immediately upon his being sworn in. Councilman Jeff Greenfield seconded, the council approved Drummond unanimously and then City Clerk Melanie Crowder administered the oath of office. Drummond will serve until a new council member is chosen in the city's special election set for Sept. 12.
Each of his council colleagues then welcomed him back. Describing Drummond as "hardworking and collegial," Miller told him, "I'm happy to have you aboard."
Pleased with their comments, Drummond said, "It's nice to be back again. It is indeed an honor and a privilege to serve again on this body. I'm grateful and humbled by this appointment, and I look forward to working with all of you over the next several months to ensure that the City of Fairfax remains the best place in Northern Virginia to live, work, raise a family and retire."
"You have placed your trust in me to carry out the serious duties of this office and, along with all of you, represent our community," he continued. "As a former councilmember for six years, I'm confident that, with help from my colleagues and our excellent city staff, I will be able to contribute in a meaningful way as we move our city forward together. And I'll not seek reelection on Sept. 12."
Indeed, one of his first tasks will be to examine and help make a decision on the proposed city budget for Fiscal Year 2018. As for Meyer, he told Drummond, "Your willingness to step forward and serve our community in this time of need is appreciated, and we thank you."