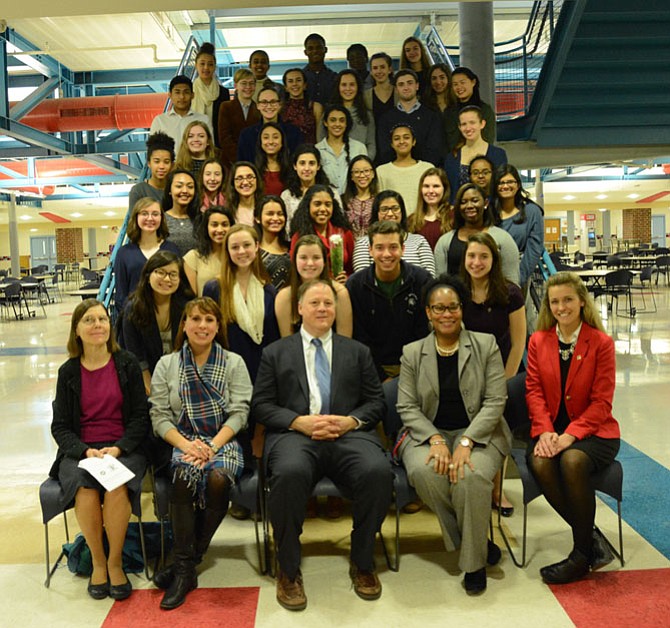 T.C. Williams High School held its annual induction ceremony of the school's chapter of the National English Honor Society (NEHS) on Jan. 31.
Twenty-five students, two faculty members, and the keynote speaker were honored at the event, which was attended by family and friends of the inductees as well as teachers and staff members.
The NEHS is open to high school students who have demonstrated exceptional ability in such areas as literary analysis, media studies, composition, linguistic study, and creative writing, and who have earned a cumulative 3.75 in their high school English courses, with a 3.75 overall grade point average.
The ceremony featured a keynote address by John Harris, journalist, author, editor, co-founder of Politico, and father to NEHS member, Liza Harris. In his speech to students and staff, Harris provided his three rules for writing beginning with the idea of letting the story be the star. Once one has decided on a point, they should state it clearly and let substance take precedence over stylistic concerns. Secondly, he instructed members to view writing as a type of music in which the writerly ear must be trained by playing it back in one's mind. And, finally, in writing, one should always endeavor to be accurate, fair, and honest.
The ceremony was led by the officers of the NEHS and the group's advisor, Kirsten von Topel. The officers for 2016-2017 are: President Emily Kiernan, Vice-President Peter LaBoy, Attendance Secretary Liza Harris, Recording Secretary Jay Falk, Treasurer Akie Kadota, and Historian Lily Morton.
The are the inductees: Veronica Araujo, Arsema Asefaw, Solomon Baah, Makdes Berhanu, Ellie Bernstein, Grace Breitenbeck, Charlotte Carey, Kelly Cen, Ana Chavez, Elspeth Collard, Bryce Cook, Zariyah Cope, Annabel Gleason, Chelsea Guevara, Kendall Huheey, Fara Islam, Jamal Jabati, Wintana Kiflu, Lane McCaslin, Suany Oliva, Catherine Sedgwick, Mariama Seydi, Tyra Symathong, Carlos Villarroel, and Bridget Williams.