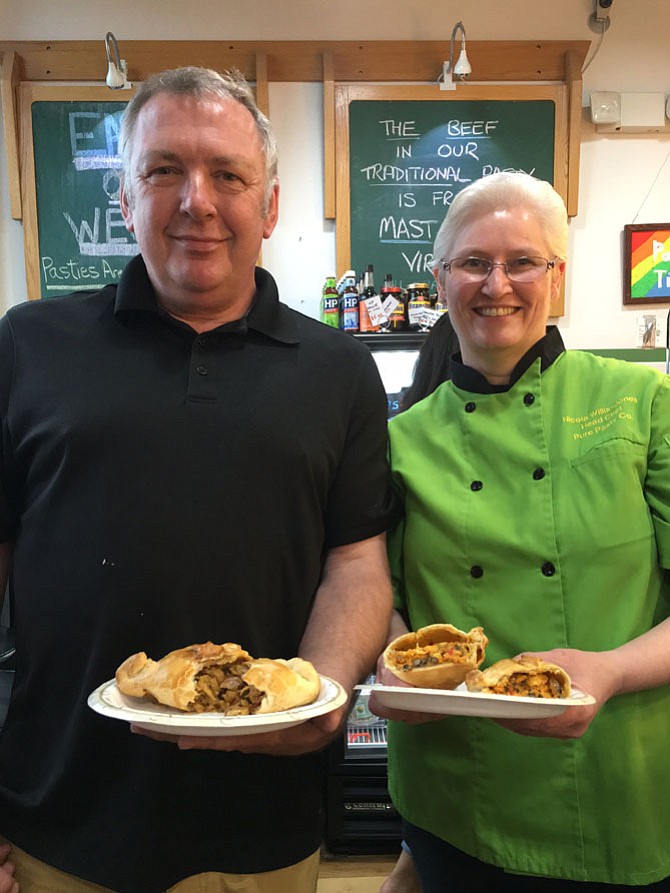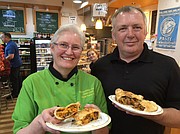 Vienna's The Pure Pasty Co. is off to Cornwall, England, to compete in the World Pasty Championship on Saturday, March 4. Interpreting traditional Cornish recipes to adapt to tastes – and ingredients – across the pond, The Pure Pasty Co. has entered six of its signature pasties in the "open" (not made-in-Cornwall) category. Owner Mike Burgess and head chef Nicola Willis-Jones leave for the UK on Tuesday, Feb. 28.
"We've honed our craft," said Willis-Jones, who, like Burgess, grew up in England. "Pasties can be filled with anything but the crust is what makes a pasty a true Cornish pasty."
Admitting that "it's all in the crust," Willis-Jones and Burgess have dedicated themselves to making a crust that can be translated with British ingredients and refining fillings that are well-loved and creative.
"A lot of research went into learning what previous winners offered," said Willis-Jones. And, lots of experimentation with substitution ingredients for those foodstuffs they cannot bring into the UK for the competition. British butter, for example, is not the butter produced in the United States; it has a higher fat content than does American butter. To adapt the crust recipe to accept British butter, Willis-Jones used KerryGold butter. "The first crust I made with it fell apart. I revised the recipe to make it work perfectly."
A pasty is a hand-held meal, a butter-rich crescent-shaped crust enveloping saucy fillings. Originating in Cornwall, UK, the tin miners took these hand-held pies down into the mines for their lunch. The pastry encompassing the filling was sturdy and rich, and crimped around its edging. The miners held the pasty by the crimped edge which they discarded after eating the filled part of the pasty. Tin left arsenic on their hands so the edging was thrown away.
When the tin mines in the UK closed, the miners travelled to many places round the world wherever there were mines, taking the pasties with them. Stateside they are popular in Michigan, California and other mining places, Willis-Jones said. "We are doing our bit to make them popular in the Washington metro-area," she said.
The pasty championship, hosted at Cornwall's Eden Project, an educational biodome complex, is broken down into two qualifying sections, and divided further into subcategories: 1. Cornish pasties made in Cornwall following a traditional recipe, 2. open savoury categories for pasties made with creative fillings or pasties from outside Cornwall. You have got to be an authentic "Cornwall pasty" to be included in the Cornwall pasty category. And, regardless of category, the entered submission has to be a pasty that has been made and sold in the entrant's home-based shop.
The Cornish pasty enjoys a special protected status, Protected Geographical Indication (PGI), and only pasty makers based in Cornwall who make their pasties in a traditional manner, following a traditional recipe, are entitled to label their products as Cornish pasties. "Cornish pasty" makers undergo a PGI audit.
WORKING TOGETHER, Willis-Jones and Burgess perfected the six pasties they are preparing for the World Pasty Championship. They are: the Reuben pasty, based on the reuben sandwich - company category; the Moroccan Lamb and the chicken masala, made by Mike Burgess, in the professional category; the Kevin's Bacon, invented in the shop by a former employee named Kevin Christensen, accented with bacon pieces, entered in the professional category, crafted by Willis-Jones. Willis-Jones adds her BBQ pork and the Southwest vegan in her submissions in professional category.
Final competition products were identified based on customer polling and a mission to represent the U.S. with iconic American ingredients.
The southwest vegan pasty incorporates cajun spices as well as corn, sweet potato and black beans; the Reuben and barbecued pork are regional favorites.
"The Kevin's Bacon is solely ours," said Willis-Jones. "No one else makes that. It also contains brussel sprouts, red peppers and onions and cheddar cheese."
The Moroccan lamb and chicken masala are regulars on the menu; the others are intermittent, but, popular, chef specials.
Willis-Jones and Burgess arrive early Wednesday morning and will finish up their ingredient shopping then. It is also make-the-dough day for Willis-Jones who says the dough is best rested overnight before she rolls it out on Thursday.
On Thursday, Willis-Jones, with assistance from Burgess, will make the fillings and roll out the dough and fill the dough shells, forming the pasties. The pasties will be baked on Friday. On Saturday morning, competitors arrive at the championship venue with their baked entries which are reheated and judged.
Ahead of their journey back to their homeland, Willis-Jones and Burgess contacted people in Cornwall to scout around for replacement ingredients. "We are well-prepared," Willis-Jones said.
WHEN BURGESS OPENED The Pure Pasty Co. in Vienna in October, 2010, he had already visited pasty shops throughout England researching their products. Chough Bakery, a Pasty World Championship winner more than one time, brought Burgess into the shop for a day to study the bakery's award-winning pasties. Over the past six and a half years, Burgess and Willis-Jones have perfected recipes and made a name for The Pure Pasty Co. throughout the D.C.-area.
"It's something we've wanted to do," Burgess said. "Nicola has been nagging at it for the past three years, at least," he said as they both laughed about the history of their upcoming championship participation. "We had to clear the space in the business to do this, but, we're ready."
Visit The Pure Pasty Co.'s Facebook page for updates from Cornwall at www.facebook.com/ThePurePastyCo/. The shop, which also sells British snacks, is at 128 Church St NW, Vienna. Call 703-255-7147 or visit www.purepasty.com.
World Pasty Championship categories
Bakers choose to make Cornish pasties or savoury pasty in the following sub-categories:
Company: Representatives from companies (bakeries, butchers, pubs, corner shops, etc.) that have undergone a PGI audit.
Professional: Those who work in the catering industry as a professional baker or cook, who are entering their own pasties under their own name.
Amateur: People aged 16 and over on the date of the competition (4 March 2017) who do not work in the catering industry as a professional baker or cook.
Junior: People aged 15 and under on the date of the competition (4 March 2017).
Gluten-free: A new category this year, for amateur bakers, who should follow the Coeliac UK's guide.