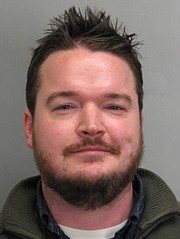 Robin McGreer, 35, of McLean was arrested on Monday, Feb. 27, for a bias-related attack that he allegedly committed on Nov. 27, 2016, by biting his victim's face.
The victim was taken to a local hospital with non-life-threatening injuries.
In November, officers responded to a fight at a Tysons Corner Center parking lot. They found a 31-year-old, male victim suffering from a significant facial wound.
An investigation by the Fairfax County Police Department's Tysons Urban Team revealed McGreer approached the victim and started a conversation. He then allegedly threatened the victim using racial insults.
McGreer then allegedly bit the victim in the face and left the scene before officers arrived.