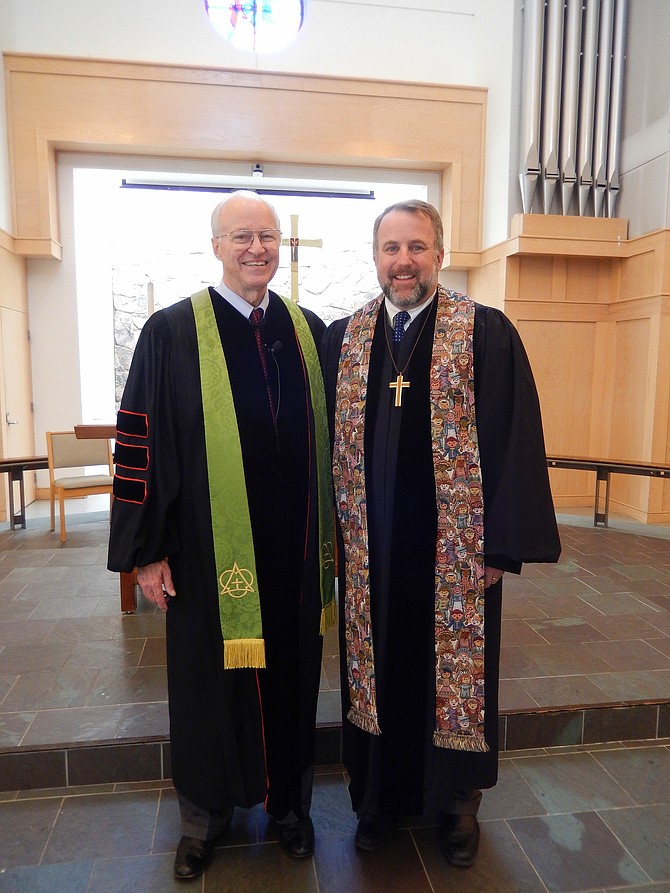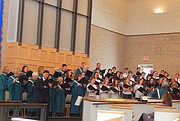 For the members of Centreville United Methodist Church, their Sunday, Feb. 19, services and fellowship were particularly joyful. On that date, they celebrated being in their building on Old Centreville Road for 25 years.
And although this church is now guided by three, new pastors, it was fitting that long-time CUMC pastor, the Rev. Bert Sikkelee, now 80, led that day's special 11 a.m. service. The theme was "I Love My Church."
"This anniversary is a time not just for celebrating, but for remembering," he said. "It was almost 25 years to the day that we moved into this building. Feb. 16, 1992 was the opening service, and one of the first weddings I performed here was for the stonemason who worked on this church."
"How we love our neighbor is how we love God." — The Rev. Bert Sikkelee
Ten years earlier, Sikkelee was among those who voted to make CUMC a regional church, meaning no other United Methodist churches could be built nearby. "Milt Peterson — who later built National Harbor — gave us the land and influenced the bank to give us the loan," said Sikkelee. "He told us to think big, and this church is the result of that."
But it wasn't easy. In July 1992, CUMC had a $5 million mortgage to pay off. Still, it later decided to devote one-third of its funds to mission work.
"We were struggling to pay $480,000/year on the mortgage," said Sikkelee. "But by the end of 1999, we'd also paid over $480,000 to mission outreach locally, nationally and internationally. Barb Shaiko left a high-paying job to become our missions director for a pittance — and she told us it was her best job ever."
The anniversary celebration's theme was "I Love My Church," and Sikkelee gave an example of why that's true for him. "I'll always remember a homeless man who came here and received a large bag of groceries," he said. "We told him to spread the word to others like him, and he said he didn't have to because 'Everyone knows, if you need something, you go to CUMC.'"
Over the years, said Sikkelee, people from all stations in life have worshipped at this church – average residents and dignitaries alike. One of them was former Washington Redskin Joe Jacoby. "He sat in the third row because his legs stretched to the first row," recalled Sikkelee.
He retired as CUMC's pastor in June 2003, after 11 years at the helm, but still attends services there with his wife Libby, who sings in the choir. "This place is vital and fulfilling, and I enjoy and appreciate my church," he said. "I need my church. How we love our neighbor is how we love God, and I need to keep renewing these vital connections through this church. I have hope in my heart and prayers for the church I love."
Illustrating CUMC's commitment to helping those in need, three-year member Jim Bailey said it's very active in the community. "It does the You Feed Others program, putting together thousands of meals a month for local school children who don't have enough to eat," he said. "It delivers meals to the homeless and its service projects include rebuilding and repairing homes in Appalachia. We also support various missions around the world, include the Ukraine and the Sudan. This is a good church and a good anchor for the community."
Gai Gaitonde has attended CUMC almost 16 years and loves it because "We share the love of Christ with the community through various ministry projects. Grace Ministries provides food, clothing, diapers, household items, toys and children's books to local, low-income, immigrant families. Teens Opposing Poverty feeds the homeless in [Washington], D.C., we run a hypothermia shelter in the winter and we partner with other churches, Fairfax County Public Schools and the county Police Department to help bring hope to Centreville teenagers with drug and bullying issues."
For 23-year member Julie Thompson, it's mainly the people who make her church special. "There are so many opportunities, not just for fellowship, but to serve others," she said. "And in our many small groups, we support each other and hold each other accountable in our faith walk. There's also great preaching and great music, and it's always been a thriving church."
Mell Cunningham and his wife Frankie have attended church at CUMC for 30 years. "So many people help out here," he said. "We put out the word and things happen. And so many have helped to keep this church going. Besides our building, we even have an outdoor prayer path and worship area and a covered pavilion across the street. Boy Scouts' Eagle Scout projects have built them."
Basically, said Cunningham, "This church is family and has helped me through the transitions of my life when jobs ended and my Air Force career ended. It's been here when I've needed it. And the strongest component of our church is our music director, Becky Jackson."
Agreeing, Frankie Cunningham said, "She's been the staying force through all our ministry changes."
Jackson, a CUMC member for 28 years, grew up in a small country church, so she found it "inspiring" to work in this church with its large membership in the thousands and multiple choirs. "This was like 'Field of Dreams' — 'If you build it, they will come,'" she said. "We opened the doors and people flooded in. And it allowed for so many opportunities in the church; there are lots of activities for children, youth and adults."
And because of all its members, CUMC was able to establish more choirs. It now has 13 choirs and/or musical ensembles, including handbells, vocal choirs and the praise band. "It's been a place for me to express my faith and my love of music," said Jackson. "And it's been a support for me, especially when I recently lost both my parents."
In a large church, she said, "You encourage people to find a place in smaller groups where they have a sense of belonging and feel they're cared for. And we do the same thing within the choirs — everyone supports each other."
Since Jackson was there for this building's opening service, she said its anniversary celebration brought back many memories for her about "the hopefulness and excitement of moving into a new church [home]. This area is so transient; but by being here over a long period of time, I've seen the church grow and change over the past 25 years."
"We've been here for the community in times of grief," she said. "But also, I've seen children grow up here, and I've played organ for the weddings of children who were in my choir. So I've enjoyed the opportunity to be here all these years. We have a beautiful pipe organ, a lovely sanctuary and choir members excited about singing and worshiping."
Jackson still enjoys introducing a new hymn to a child and challenging adults with new music and musical styles. "And the pastors and our terrific staff have been so supportive," she said. "It's been a pleasure and a blessing to be in ministry among others who express their faith in the church."

CUMC's current lead pastor. the Rev. Will Montgomery, also noted that – although it was celebrating a quarter century in its building – the church "has had a presence here in Centreville since before the Civil War. And we continue to seek to be a church meeting the changes in our community."
"I'm truly energized by what's going on in the life of the church," he added. "I believe we're poised and ready to embrace the next 25 years, and I'm hoping to enjoy as many of those years here as possible, sharing effective ministry. This church has been in existence for 167 years in three locations. And it's a joy that we've been able to grow through the love of Christ and each other, through the years."