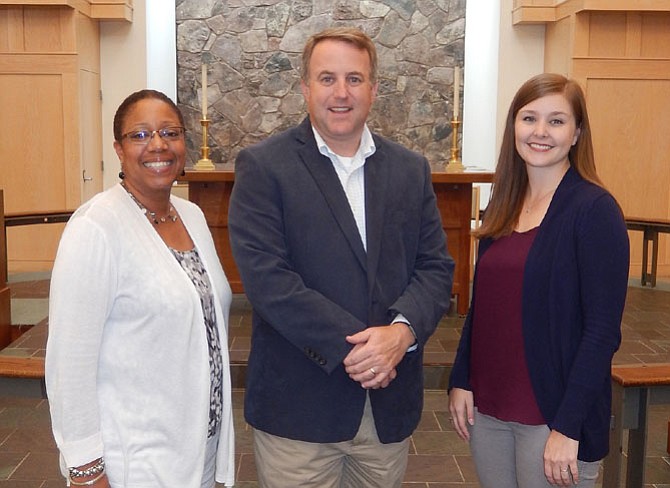 Like any place of worship, Centreville United Methodist Church is a blend of the old and new. Longtime members attend alongside those who've only worshipped there a few years.
The church's roots in the community run deep, yet change is a part of its life. Last summer, for example, CUMC welcomed three new pastors – the Rev. Will Montgomery, lead pastor, plus associate pastors Ellen LaCroix-Fillette and Michelle Holmes Chaney.
"We've been a team since then, and we've thoroughly enjoyed coming together, meeting everyone in the church and getting to know them," said Montgomery. "We're excited learning about what God has been doing in the life of the church for many years."
He said they're also encouraged by "what we're hearing and sensing in the midst of this transition about what God will be up to in this church for years to come. And we seek to be what God is calling us to be."
Montgomery has been a pastor for 20 years in the Lynchburg, Smithfield and Charlottesville areas, so this is his first time heading a church in Northern Virginia. And he's enjoyed serving in small towns and large cities, alike.
For eight years, he also served on the Board of Ordained Ministry, credentialing people aspiring to become pastors. And because of that experience, he got to know many of the former associate pastors at CUMC.
Montgomery said he and LaCroix-Fillette and Chaney work as a team here. "Pastor Michelle leads the Congregational Care Ministry and Pastor Ellen oversees the Spiritual Formation classes, working with our children and youth directors," he said.
LaCroix-Fillette is a recent graduate of Wesley Seminary in Washington, D.C., and this is her first church appointment. Chaney has had several years' experience in the United Methodist Church's Baltimore-Washington conference. "They're both a delight to work with and offer so much insight, and it's great to bounce ideas off each other," said Montgomery. "And the members here have been warm and welcoming."
Noting that CUMC is known for is missions and music ministry, he said the pastors hope to build upon these strengths. "Every day, something is going on in the church — either a church ministry or groups using our building," said Montgomery. "For example, a Korean United Methodist Church, Koinonia United Methodist Church, also meets here, and we hope to do more shared ministry with them."
He said 500 youth play on Saturdays in CUMC's Upward Basketball program, now celebrating 12 years of community outreach. "We also offer ESOL classes and are home to a Boy Scout troop," said Montgomery. "So there are several doors open to [area residents] to participate, and I'm excited about the many ways we can make a difference in the lives of our community."
At CUMC, he said, people are able to find pathways to connect to one another and to God. Each Sunday, an average of 500 members come to the church at 6400 Old Centreville Road to attend one of the four services offered. The 8:15 a.m. service is informal, whereas the 9:30 and 11 a.m. services are more traditional. These three are held in the sanctuary, and a contemporary service at 11:02 a.m. is held in CUMC's adjacent Recreation and Outreach Center.
"Our members are open and ready to respond to the love of Christ in worship, service and in discerning who we are," said Montgomery. He's also pleased about "who we are as a congregation" and said CUMC will find ways to continue to deepen its spirit and grow as a church.
"I listen to people telling me what programs and experiences within the church have been meaningful to them, so we don't lose that while we move forward," he said. "But at the same time, we also want to be a church for those who have yet to come."