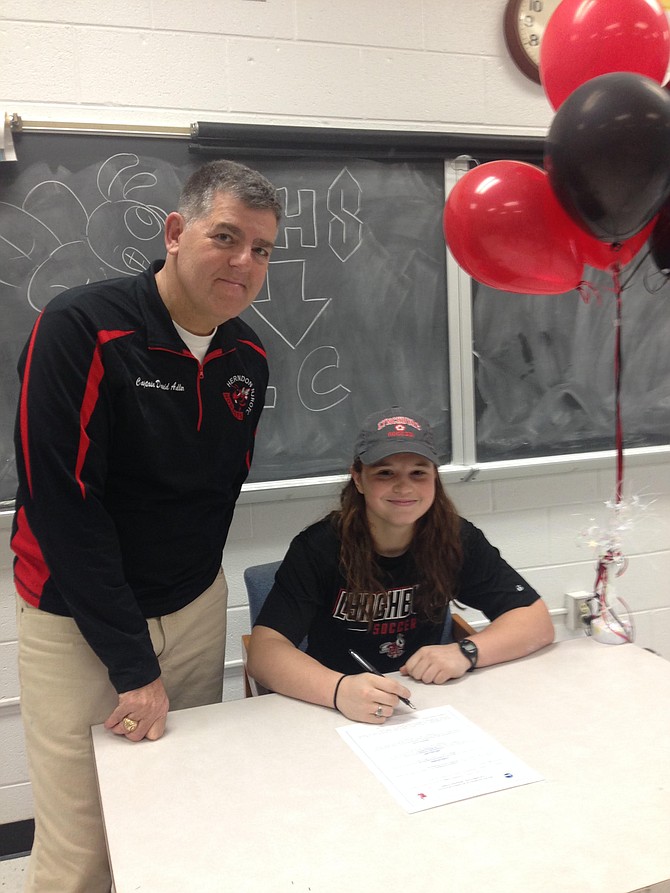 Local high school senior Beatrice Kelly-Russo has accepted a bid by Lynchburg College to play on its championship woman's soccer team. Soccer has been her passion since starting to play at age 9. She has been goalie for several soccer clubs, Langley High School, Herndon High School, and an indoor team at Sterling SportsPlex, plus she coaches youth soccer there as well.

Kelly-Russo will be joining a successful soccer program at Lynchburg. The team has been invited to the NCAA playoffs every year since 2010. It won successive ODA Conference championships each year, and went on to capture the Division III National Championship in 2014.

Coach Todd Olson recruited Kelly-Russo early based on her performance at a soccer camp, and offered her a place on the Lynchburg team during her junior year at high school. She was honored for her selection at a "Signing Ceremony" Feb. 10 at Herndon High School.
Kelly-Russo is a high school honor student and has been awarded an academic scholarship by Lynchburg College.