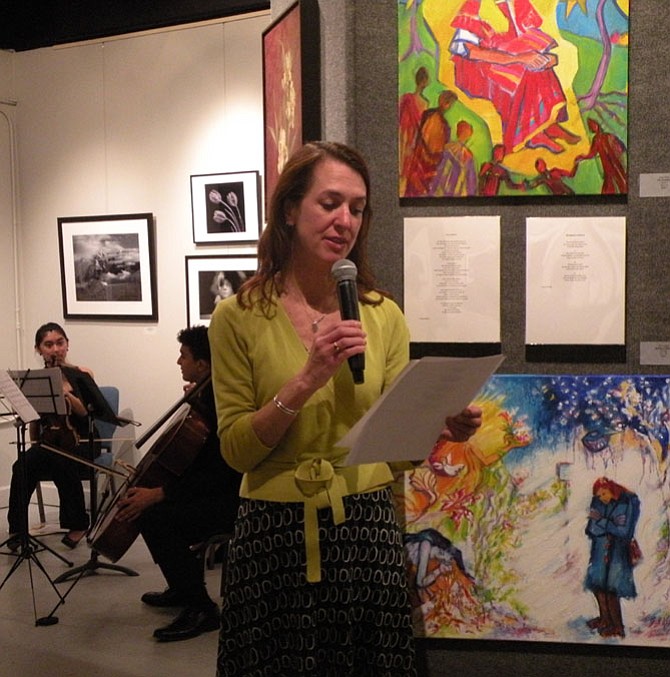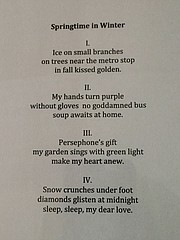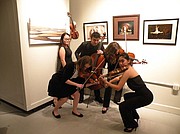 The Poetry Society of Virginia (PSV) and Reston Art Gallery & Studio (RAGS) made Herndon the second stop on their regional tour of "Springtime in Winter: An Ekphrastic Study in Art, Poetry, and Music." The evening performance was held at the Post Gallery, ArtSpace Herndon on Wednesday, Feb. 22.
The event showcased readings of eight self-written poems created by members of PSV in response to eight works of art created by members of RAGS. Following each dramatic reading, chamber musicians from Herndon High School orchestrating in violin, viola and cello, performed a complementary score generated by a local composer.
The collaborative performance of art, spoken word and music originated with what sounds like the beginning of a joke.
According to RAGS owner, Pat Macintyre, it all began when a wandering poet was having a bad day and chanced to walk into the gallery in Reston. As she and the poet talked, one thing led to another until the two, poet and artist, agreed to partner for an upcoming event.
Macintyre who was present at the performance spoke about what made this show distinctive from other poet and painter events. It was the addition of a third art form that transformed what would have been a good show to a great one. "The music," Macintyre said, "Really makes it special."
Mike Maggio, vice president of The Poetry Society of Virginia, agreed. He explained the importance of the complementary music and said, "I wanted to get two composers. I got Jesse Guessford from George Mason University and Brian Scarbrough, a graduate of The Boston Conservatory."
The audience must have agreed with Maggio and Macintyre's collaborative plans. At the conclusion of the show, the crowd gave a standing ovation.
"I'm really happy," Maggio said. "We've created interest in poetry, art, and music. And they work together."
The third and final performance of "Springtime in Winter: An Ekphrastic Study in Art, Poetry, and Music" is Saturday, March 25, 1-4 p.m. during The Poetry Society of Virginia Conference at Waddell Gallery, Northern Virginia Community College, Loudoun campus.
According to its website, The Poetry Society of Virginia, a nonprofit organization, has been advancing the cause of Virginia's poetry since 1923. The purpose of the society is to encourage the writing, reading, study and appreciation of poetry. The society advances the cause and appreciation of poetry in Virginia through publications, readings by members and visiting poets, poetry events around the state, contests, workshops, in-school programs, poetry festivals, and other activities.
For more information including membership and upcoming events contact The Poetry Society of Virginia on Facebook/PoetryVA or visit www.poetrysocietyofvirginia.org.