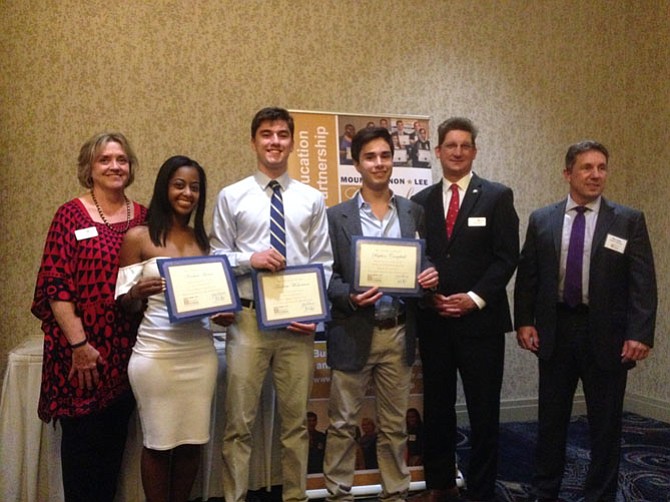 Mount Vernon — For Stephen Campbell it took an experience with his grandmother's wheelchair and the invention of the "SenSei," a computerized sensing device that made steering the wheelchair easier. For Andrew Wolverton, it was the dedication to his studies at West Potomac coupled with the swim lessons he gave at Stratford pool, and his dedication to serving others on the lifeguard stand. For Rackeb Mered, it was her business mind at Hayfield Secondary and the desire to see the letters "CEO," by her name one day. These efforts didn't go unrecognized as they gathered at a recent Mount Vernon-Lee Chamber of Commerce to accept $2,500 scholarships to help them be future community and business leaders in southern Fairfax County.
Campbell remembered the wheelchair experience from eighth grade and he didn't want his grandmother to have issues with it back then. "She had been through so much, World War II and all," he said.
"Our intent is to build our business leaders," said Holly Hicks Dougherty, the chamber's executive director. "If we have strong businesses, we have a strong community," she said.
Scott Stroh, the chamber's president, had the same feeling towards the high school graduates that were now heading on to colleges all over the country. Campbell is off to USC in California, while Wolverton is off to the University of Virginia, and Mered to Duke. "It is a wonderful opportunity to see these young men and women who are going to further their education and preparing themselves to be future leaders in our businesses and community," said Stroh.
The chamber collected most of the money for the scholarships from a golf tournament fundraiser on May 17 with contributions from Pen Fed Credit Union, Ourisman Automotive Group, The Cleaning Authority, Gunston Hall and ServiceMaster and others. The scholarships are there to "try to provide the best opportunities we can," said Paul Velkey from Pen Fed.
In addition, two other scholarships went to Evan Sparks from South County Secondary School, who is into filmmaking, and Mia Linh from Lee High School who is a member of the National Honor Society. They were not present at the ceremony.