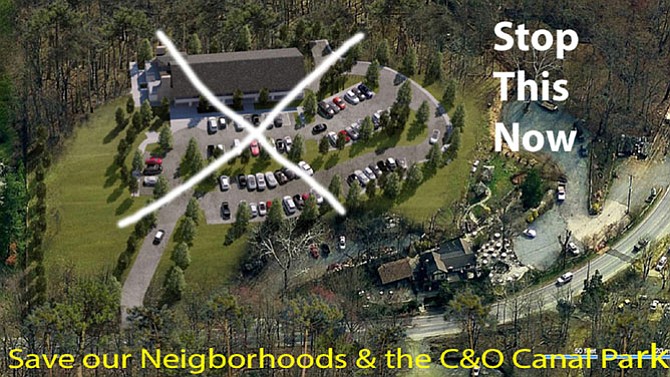 "Restrict the location of restaurants posing as country inns in R-200 residential zones." — Brickyard Coalition
Several Potomac community groups have reinvigorated their opposition to a new banquet facility on the property of Old Anglers Inn on MacArthur Boulevard by posting a petition asking County Council members to co-sponsor the zoning text amendment offered by Councilmembers Marc Elrich and Tom Hucker to restrict the location of "restaurants posing as country inns" in R-200 residential zones. They are asking local residents to sign in and voice their opposition on the website Change.org.
The groups — the Brickyard Coalition, River Falls Civic Association, Woodrock Civic Association, Civic Association of River Falls and West Montgomery County Citizens Association — also voiced their opposition to the project earlier this year before a February hearing of the matter by the county Zoning Board. At that time, the board recommended denying the application by Maryland Catering Company.
Though it was noted that the application "has merit," denial was based on the fact that additional information was needed.
Approval of the project, a 9,000-square-foot special events venue, separate from the existing Inn, requires a change approved by the zoning board from the property's current zoning designation of R-200 (residential) to conditional use (special exception).
According to the Montgomery County planning board website, Maryland Catering Company is seeking approval for a Country Inn on 6.36 acres of the 7.32 acre property. The proposal will include a two-story building designed to accommodate dining and banquet accommodations for about 240 guests including its own kitchen. It will also have four suites for overnight guests and 80 parking spaces.
In a letter published June 12 by Brickyard Coalition explaining its opposition to the facility community leaders wrote:
"… In 1967, the Montgomery County Council wisely prohibited any new restaurants in commercial zones. Yet, the applicant, Maryland Catering, is seeking to build a nearly 9,000-square-foot restaurant with a 95-car parking lot on this site along Macarthur Blvd. by calling it a country inn.
"Importantly, the Potomac Master Plan clearly recommends this site be used for residential development, and not development as a restaurant or even as a country inn.
"Lastly, we believe this project could have a negative environmental impact on the C&O National Historic Canal Park. Traffic is already a serious safety issue with illegal parking on both sides of MacArthur Blvd. on weekends.

"We have turned to the County Council for help in stopping this expanded definition of a country inn that would permit commercial restaurants in our residential neighborhoods throughout Montgomery County.

"Councilmembers Marc Elrich and Tom Hucker are co-sponsoring an amendment to the zoning ordinance (known as a "ZTA") which would restrict the placement of country inns in R-200 zoning. The ZTA would (I) require a country inn to be recommended by a master plan and (ii) increase the requirements for a rural location."
A country Inn is defined, by Montgomery County as "an establishment for dining in a rural area, that may include a maximum of 12 overnight guest rooms and the following subordinate uses: rural antique shops, handicrafts or art sales, equestrian related retail sales and service and recreational facilities primarily for the use of guests."
Mark Regis and his wife Sara are co-owners of Old Anglers Inn and principals of Maryland Catering Corporation, Inc.
In a February phone interview Mark Regis said he believes the country inn is a natural extension of what his family has provided at Angler's Inn for almost 60 years.
"I'm trying to create something that is a natural extension of what's here," he said. "It's going to have the same look and feel of the existing Angler's Inn. Most of the property will remain in its [present] natural state."
Since the June 12 letter, 193 people have signed the petition urging the County Council to co-sponsor ZTA. Council president Roger Berliner has signed his support as have members Sidney Katz and Craig Rice in addition to Elrich and Hucker.
The letter to council members, the petition, is short:
"Stop commercial restaurants in our residential neighborhoods
"Please co-sponsor and support the zoning text amendment offered by Councilmembers Elrich and Hucker to restrict the location of restaurants posing as country inns in R-200 residential zones. Restaurants belong in commercial zones, not our residential neighborhoods. Thanks."
Many of those who signed also noted why the petition matters to them.
Patricia Eng, of Potomac, wrote, "A 9,000 sf restaurant and 95 car parking lot does not belong among quiet residential neighborhoods and a historic park setting."
Amy Woitach, of Potomac, noted, "The area roads near Old Angler's Inn already exceed capacity. The traffic volume, in addition to the current illegal parking has already made the area unsafe for local residents. The additional influx from the proposed banquet facility will negatively impact our neighborhood."
John Basile, of Potomac, said, "This would have a negative impact on the River Falls residential community."
And Alison Lepard, of Bethesda, wrote, "The traffic associated with access to the National Park is already too heavy for the land. A large facility could further reduce access to the park during busy times. The small and windy road is unsafe for the additional traffic a large commercial facility would generate."
Most who wrote comments expressed concern about the traffic the facility would generate and its impact on the local neighborhoods.